Watermelon Gin Fizz with Mint
This watermelon gin fizz is perfect for summertime sipping! Pureed watermelon is muddled with fresh mint, floral gin, lime, and seltzer. Served on the rocks for the perfect summer cocktail.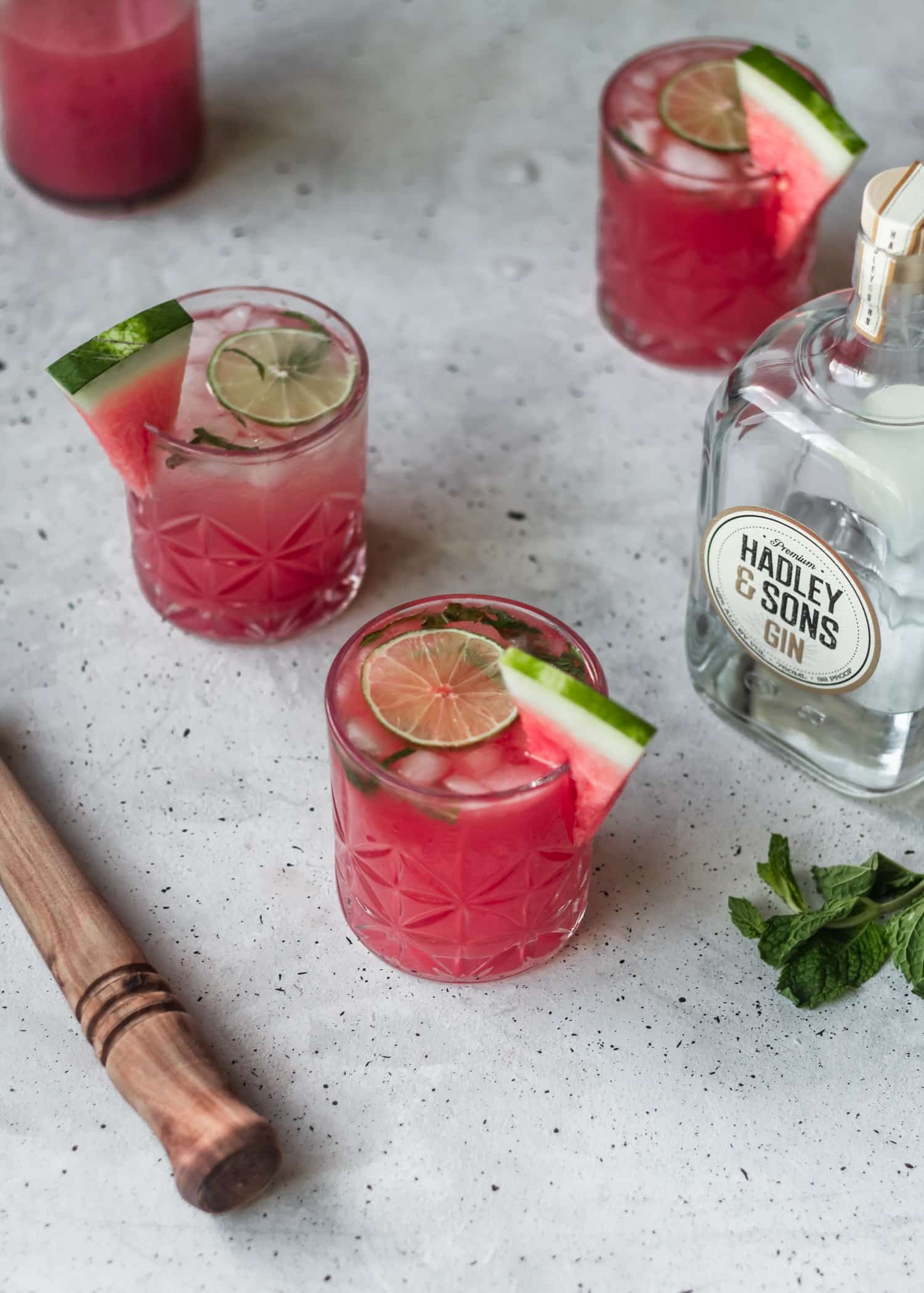 I think we can all collectively agree that, as a society, we need a drink rn? Cool, glad we're on the same page.
Luckily, I am getting plenty of bartending experience, because my Friday tradition is now to shake up a cocktail at approximately 4:55pm. Now that we aren't necessarily hitting the bars, per usual summer tradition, I have become quite the home bartender. (Not that I haven't mixed up a cocktail in my day, because we know I have. But, normally we spend summers hopping from brewery to distillery so we feel a little out of our element rn).
I even got a muddler, and I'm not using the handle of a wooden spoon anymore. Like, I'm basically a mixologist. 💁‍♀️
A watermelon gin fizz is the perfect summer cocktail!
While I want to be the kind of person who turns on some smooth jazz, lights herbs on fire, and talks literature while hitting that cocktail shaker with expert precision, my reality is that I can only handle the most simple of cocktails when it's a hundred degrees out. Maybe I'll be that person some day, but this summer is not it. So, my drink of choice this year has been a watermelon gin fizz, served with plenty of fresh mint, extra cold. (Marc actually whipped it up for Mother's Day this year, so shout out to him for inspiring this drink)!
As I've discussed, I have a love-hate relationship with summer, but if there's one thing that I cannot argue, it's that summer produce is on point. Aside from strawberries, deep red, juicy watermelon may be the absolute best thing in mid-July. So, of course, I had to cocktail-ify it!
This particular watermelon cocktail is sweet, citrus-y, fresh, herbaceous, and slightly fizzy thanks to the addition of lime-flavored seltzer. If we're being completely honest, I'm craving one at this very moment, but please don't give me that "it's 5 o'clock somewhere" spiel, because I turn 25 this week, and I've decided that's too old for mid-week morning cocktails, sorrynotsorry!
Watermelon Gin Fizz Ingredients!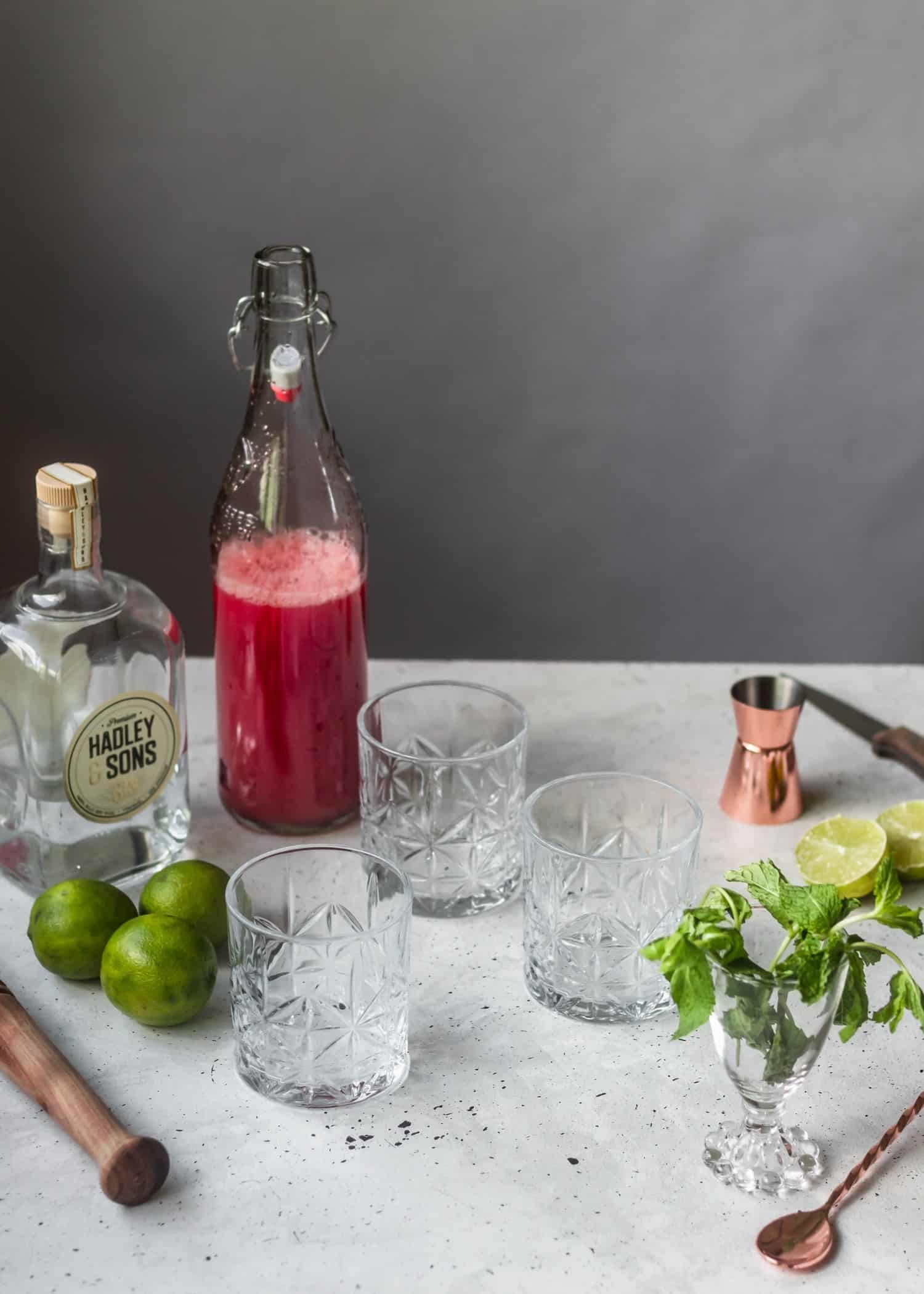 You'll need some summery AF ingredients for this watermelon gin fizz, but don't worry, I'm not going to have you running around to every liquor store in town trying to find some artisan, small batch spirit. Just make sure you have:
Watermelon: You'll need either one personal watermelon, or half a regular.
Simple Syrup: You can buy simple syrup at the store, or you can make your own (more on that later).
Lime Juice: Freshly squeezed!!!
Gin: Whatever floats your boat. I like a gin that's light and floral.
Mint: Make sure it's fresh. Basil would also work!
Seltzer: I like lime-flavored seltzer but plain is good too.
How to make a watermelon gin fizz at home!
First, we need to start by juicing a watermelon! Slice up your watermelon into chunks, and place it in a good blender or food processor until it's nice and pureed. Then, pour it through a strainer one or two times, until it's a nice, smooth juice. (Don't worry, a little pulp is ok!)
Next, place a couple of mint leaves in a glass along with some lime juice and simple syrup. Muddle until the mint is fragrant, about 15 seconds. Add the watermelon juice and gin. Stir it up!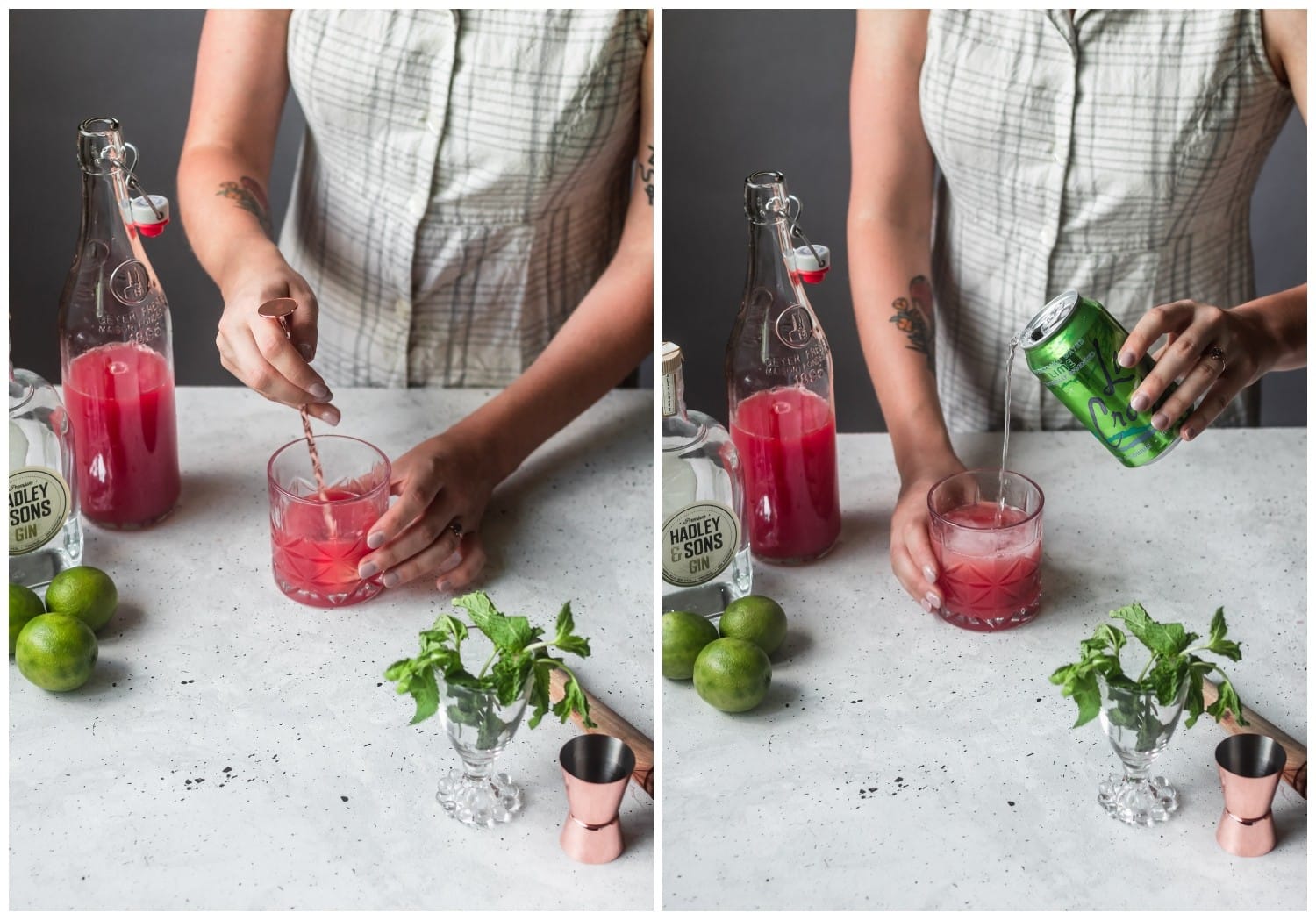 Lastly, add the ice and stir until cold, another 15 seconds. Garnish with watermelon slices, lime, and mint. Enjoy!
Fresh vs. store-bought watermelon juice
I know that juicing a watermelon does not appeal to every person, so I understand the desire to forgo the process. I have seen some watermelon juice options on the market, and I've even bought some to test! My consensus is that fresh watermelon juice usually tastes considerably better since it's pure melon-y flavor. Many store-bought juices have added juices (like cranberry, apple, or pear) which makes the drink taste less watermelon-y and more…general fruit flavor?
However, if you are able to find some 100% fresh watermelon juice (or you just don't have a blender), store-bought will work just as well!
Homemade simple syrup
Yes, you can buy simple syrup at the store if that's your thing. It's cheap and ready on the shelves. However, I usually just make my own, because it's seriously the easiest thing ever and lasts forever in the fridge.
To make simple syrup, just combine equal parts of water and sugar (I usually do 2 cups each at a time), mix, and bring to a boil for about two minutes. Cool, and store in a bottle in the fridge until you're ready to mix up a cocktail!
Also, quick note! In this cocktail, you may or may not need the simple syrup. If you have a super sweet watermelon, the simple syrup is not necessary. If your watermelon is more dull tasting (it happens), adding a little simple syrup will help elevate the melon flavor!
For a pitcher cocktail…
If you want to make this cocktail in advance, it's super easy! Just multiply the ingredients by however many cocktails you are serving, and mix all of the ingredients except for the seltzer in a pitcher! Immediately before serving, pour the cocktail over ice, and finish with a splash of seltzer.
Picking the perfect watermelon
Picking a good watermelon is *essential* for the success of this recipe. You'll definitely want a watermelon that is uber juicy and sweet, or your watermelon gin fizz will taste flat and boring. Here's how to find the perfect watermelon.
Hold it: Pick up your watermelon and do a few squats (ok maybe don't). Regardless, it should feel heavy for its size.
Look for a creamy, yellow spot: This is where the watermelon rests on the ground, and it indicates that the watermelon is ripe!
Webbing = good: Those brown webs that make the watermelon look all funky? Yeah, you want those. The webbing is scarring that occurs as a result of bee pollination. The more webbing, the sweeter the watermelon will be!
Give it a knock: Yes, like on a door. The watermelon should sound hollow which means it's nice and juicy! If it sounds dull, it's either under or over-ripe.
A few tips and tricks
Just a few ways to make your cocktail extra perfect. 🙂
Use small glasses: Cocktails shouldn't be large drinks. Try to use glasses that are somewhere between 8-12 ounces, or you'll end up with a water-y cocktail.
Always use fresh ingredients: The secret to those incredible craft cocktails is fresh herbs, fruit, and spices. For this cocktail, puree your watermelon, juice your limes, and never (ever ever) use dried mint if you want a perfect cocktail!
Strain the watermelon juice: It's an extra step, but I promise it's worth it. Unless you want a smoothie-style cocktail, definitely make sure to give it at least one (if not two) runs through a fine-mesh strainer.
Add ice + seltzer last minute: This should be the last thing you do immediately before serving! Otherwise, you'll water down your cocktail and that would be sad.
A note on simple syrup: You may not need the simple syrup in this cocktail depending on how sweet your watermelon is! If your watermelon is super sweet, leave it out. If your watermelon is a bit more watery, adding some simple syrup can help elevate the flavors. When in doubt, leave out the simple syrup, taste, and add it as needed!
Cheers to the summer, my friends!!
More summer cocktail recipes you'll love!
Frozen Aperol Spritz with Strawberries
Spiked Strawberry Lemonade
Prickly Pear Vodka Sour
Cocktails in a Can
Blueberry Lemon Vodka Spritz
Thyme French 75
Sparkling Strawberry Bourbon Lemonade
---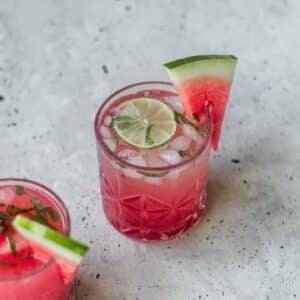 Watermelon Gin Fizz with Mint
These watermelon gin fizzes are all I want to drink in the summer. With mint, lime, and seltzer, they're refreshing, light, and not-too-sweet. Make one for yourself or make them in a pitcher for all of your friends!
Ingredients
3 oz fresh watermelon juice (1 personal or 1/2 regular watermelon)
1/2 oz simple syrup (optional)
1/2 oz fresh lime juice
Fresh mint
2 oz gin (1.5 oz. for a less boozy drink)
1.5 oz Seltzer, to top
Melon, lime slices, and mint, for garnish
Instructions
First, start by juicing your watermelon. Cut your personal (or 1/2 regular) watermelon into 1" chunks, removing and discarding the rind. Place the watermelon in a high-speed blender or food processor, and blend until completely pureed. Strain in a fine-mesh strainer 1-2 times to remove pulp and seeds (to desired smoothness). Refrigerate for up to four days until ready to use.

To make the cocktail, pour the simple syrup, lime juice, and 1-2 mint leaves in an 8-12 ounce cocktail glass, and muddle until the mint is fragrant, about 15 seconds.

Add the gin and 3 ounces of watermelon juice. Give it a stir, and then add ice. Stir until very cold, another 15 seconds or so. Top with the seltzer, and garnish with watermelon slices, lime, and mint. Enjoy!

To make a pitcher cocktail, multiply the ingredients by the number of servings you would like to make. Follow the same directions, muddling and mixing in a pitcher, but leave out the seltzer and ice (otherwise, it will get watery and flat)! Immediately before serving, pour the cocktail in individual cocktail glasses over ice, stir, and top with seltzer and garnishes.
Serving: 1cocktail, Calories: 221kcal, Carbohydrates: 18.8g, Protein: 0.5g, Fat: 0.1g, Saturated Fat: 0.1g, Sodium: 13mg, Potassium: 111mg, Fiber: 0.4g, Sugar: 4.9g
---
xo Sara Lynn
*Song of the day: Goodie Bag by Still Woozy