Shortbread Linzer Cookies with Raspberry Jam
So far, 2020 has brought me three of the best, most exciting things in the whole world: 1. a finally-perfected recipe for nut-free shortbread linzer cookies. 2. the announcement of a new Tame Impala album. and 3. the future title of Mrs. Hunt-Broka. (Or does Broka-Hunt sound better? Ahhhh so many things to decide!)
So yeah, I'm pretty much stoked out of my damn mind! I've been looking down at my ring finger every few seconds since it was slipped on my finger late Saturday night. It's so pretty!!!
The night of our engagement included perfect Bolognese, lots of laughs at a local comedy club, a parking lot engagement, celebration bourbon shots, a first rough draft of our ultimate wedding playlist, and of course, Marc asking, "You said yes, right?" approximately one hundred times before we went to sleep that night. I can't wait to get all crotchety and senile with this dude.
And now that we've officially called/texted/social media-ed every person we know to tell them the news, I'm ready to create the *official* Hunt-Broka (Broka-Hunt?) Wedding Pinterest board. Marc, you're the ketchup to my french fries, and I love you! 😛
A little about these Shortbread linzer cookies
The day after the aforementioned engagement situation, I made these shortbread linzer cookies! Linzer cookies originally originate from Austria but eventually made their way over to Germany at some point. Linzers are a tart-turned-cookie filled with fruit preserves and topped with a cute, decorative lid. They're surprisingly simple-to-make, lightly sweet, and soooo buttery. A.k.a. my cookie perfection.
I have been wanting to try out some nut-free linzer cookies for a while but wasn't sure how to replace the traditional almond flour (seed flour, extra AP flour, magic?) But, Marc's German grandmother apparently used to make traditional raspberry linzer cookies without nuts all the time! He described them as "shortbread-ish" so I figured I could make that work in the name of simplicity. (Let's be real, no one wants to make pumpkin/sesame/sunflower seed flour if they don't have to).
I started by trying out my most favorite, perfect shortbread recipe as the base, and it worked! It's the easiest shortbread ever and doesn't even require chilling time even though I still give it a little rest in the fridge. I enhance the shortbread a bit with some lemon zest + vanilla (duh). And then we fill the center with a good-quality, store-bought raspberry jam. The red peeks through the little heart cut-out, and it's the cutest for Valentine's Day!
Shortbread Linzer Flavor Combos
Of course, if you don't like the lemon + raspberry combo (who are you?) there are a bunch of others you can try! Just replace the lemon zest in the shortbread with another spice/herb/zest and replace the raspberry preserves with a different flavor. A few on my to-test list include:
Orange zest + strawberry jam
Ginger + blueberry jam
Thyme + lemon curd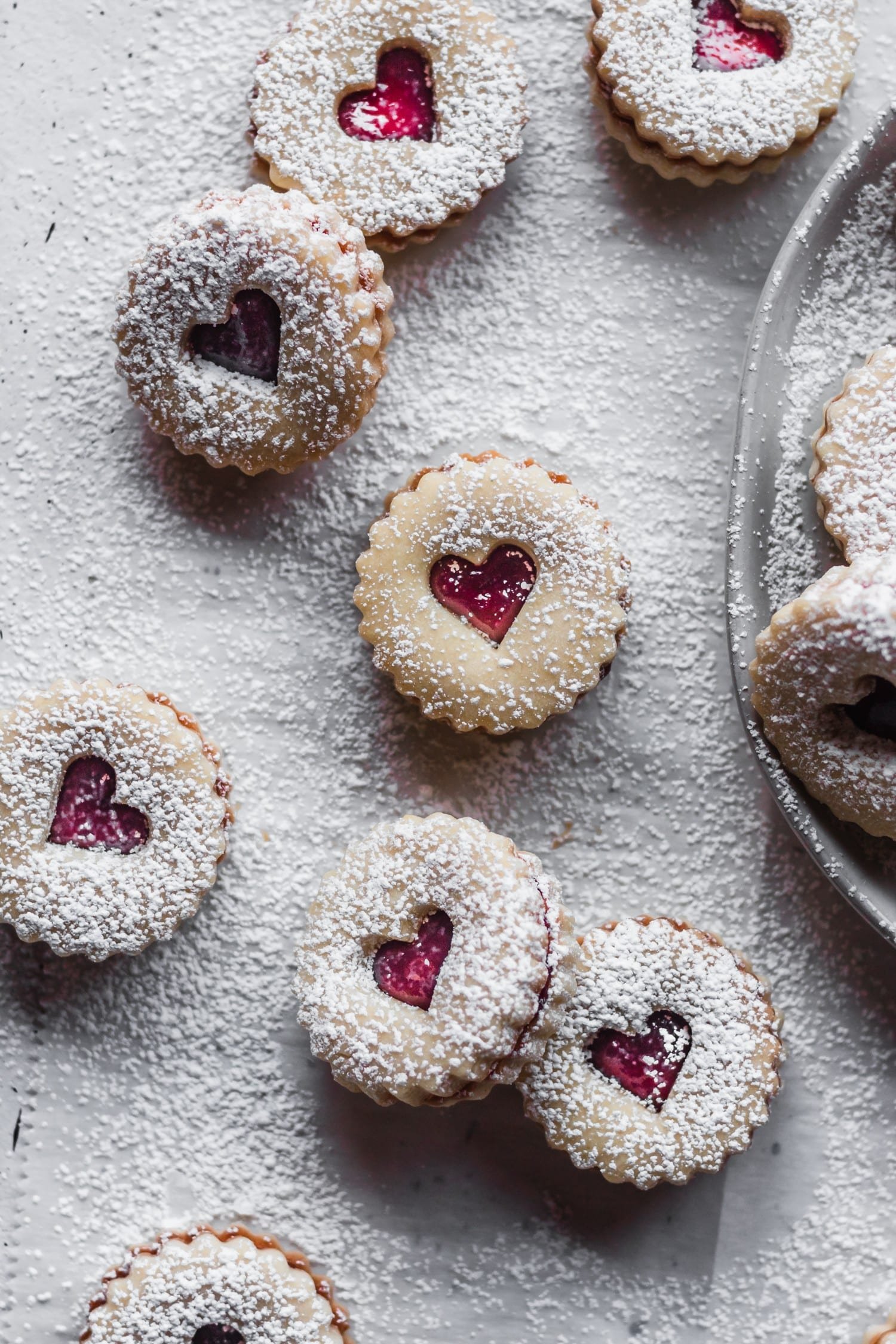 Ingredients in shortbread linzer cookies
There's really no crazy ingredients in linzer cookies, especially of the shortbread variety. You'll need:
Unsalted Butter: Since butter is a main flavor here, I would really recommend springing for a higher-quality brand. But, any unsalted butter will do!
Powdered Sugar: The powdered sugar gives the cookies a softer, smoother texture than granulated.
Vanilla Extract: Go for the real deal here. Trust.
Lemon Zest: Or whatever zest you'd like.
All-Purpose Flour: Just regular, every day flour.
Salt: Table salt is perfect.
Seedless Raspberry Jam: Or whatever jam/filling you'd like! Just go for something better-quality like a locally-made jam or Bonne Maman!
A step-by-step guide on how to make shortbread linzer cookies
First, you'll cream the butter and sugar until it's pale yellow and fluffy. Since we're using powdered sugar, it will look a little buttercream-y. Nothing to worry about. Add the vanilla extract and lemon zest.
Next you'll add the flour and salt until the dough comes together and is crumbly. At this point, it's easiest to just knead the dough into a ball with clean hands.
Divide the dough in two, and flatten each portion into half-inch discs. Wrap it in plastic, and freeze the dough for about 15 minutes. Alternatively, refrigerate the dough until you're ready to use it. This part isn't totally necessary, I just think it makes it a little easier to roll out the dough. If you're in a hurry, just roll it out right after mixing!
Roll out the dough to 1/4" thickness on a lightly-floured surface. Cut out an even number of cookies with a 2.5-3" cookie cutter. Use a smaller, decorative cutter to cut a shape out of the center of half of the cookies. Then you'll bake them at 350° F for about 12 minutes, until they are lightly browned on the bottom.
Let the cookies cool, and spread about one teaspoon of jam onto the bottom cookies, and sandwich the cut-out cookie on top. Then, dust with lots powdered sugar!
How do I store shortbread Linzer Cookies?
After the cookies are completely cooled, place them in a single layer in an airtight container. They can sit at room-temp, but I personally like them straight out of the fridge. They will keep for about a week, but they may get a little softer after a few days. Or, you can freeze shortbread linzer cookies in an airtight container for up to three months!
A few tips and resources for shortbread linzer cookies
I used used a three-inch cookie cutter for the "main cookie", and a mini heart cut-out for the center.
The bottom cookies may puff up in the oven a little. Nothing to worry about! You could probably poke each cookie with the tines of a fork if you want them to be completely flat, but the jam may seep through!
You want to bake the cookies until they are juuuust lightly browned on the bottom and edges. In my oven, they were perfect at 12 minutes.
Marc claims these are best eaten right out of the fridge, and I agree! Perfect with a cup of coffee or tea.
Other Valentine's Day treats you might want to try!
Heart-Shaped Seedy Soft Pretzels
Chocolate Peanut Butter Lava Cake Skillets
Rose Cardamom Buns
Reverse-Seared Chuck Steak
Prickly Pear Vodka Sour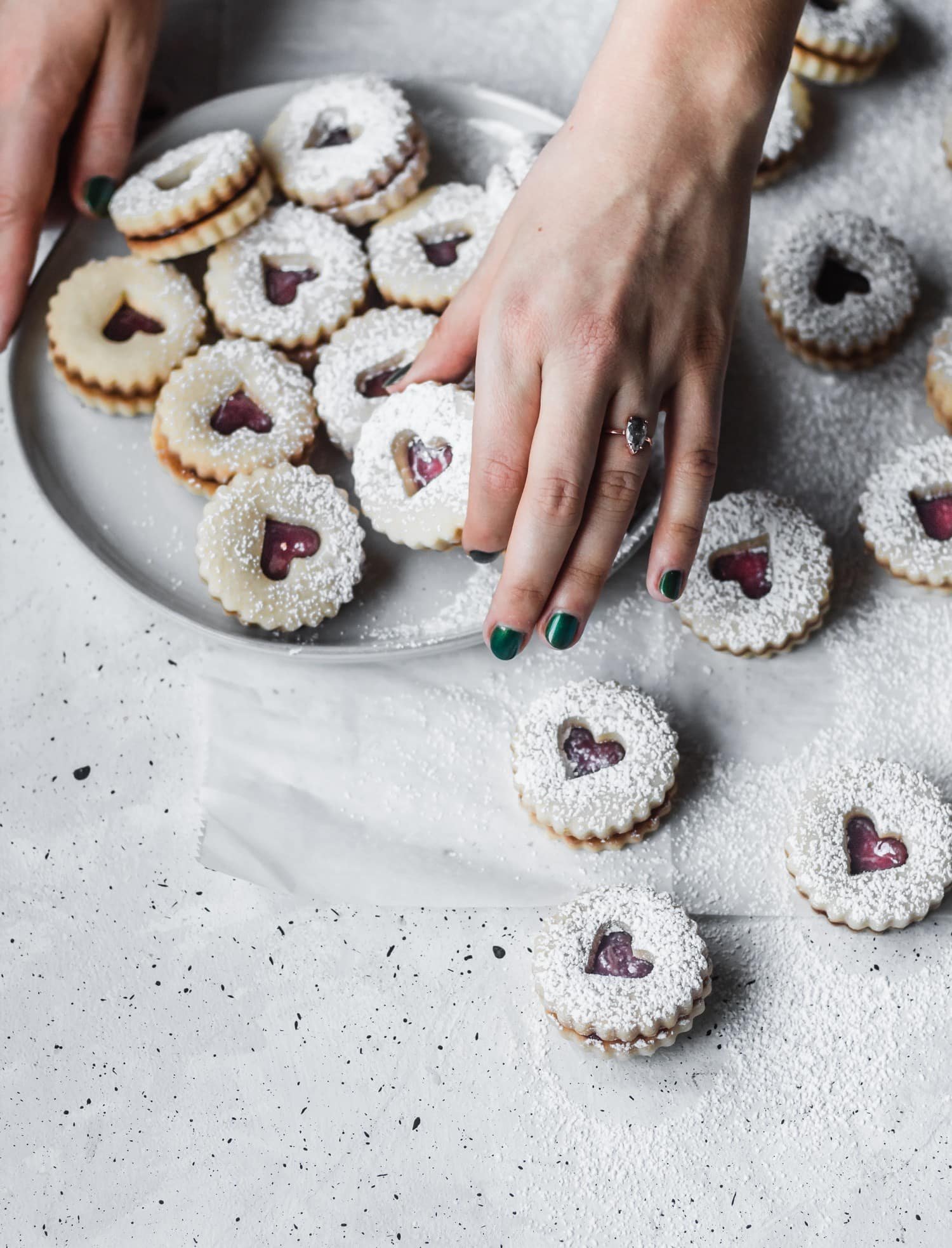 Shortbread Linzer Cookies with Raspberry Jam
---
Shortbread Linzer Cookies with Raspberry Jam
Vanilla-y, lemony, and nut-free shortbread linzer cookies filled with a tart raspberry jam. A classic cookie that everyone will love!
Ingredients
3 1/2 cup all-purpose flour
3/4 tsp salt
1 1/2 cup unsalted butter (3 sticks), softened
1 cup powdered sugar
2 tsp vanilla extract
1 1/2 tsp lemon zest
2/3 cup seedless raspberry jam
Instructions
Preheat the oven to 350° F and line two cookie sheets with parchment paper. In a small bowl, whisk together the flour and salt. Set aside.

In a large bowl, cream the butter and powdered sugar until the mixture is fluffy and pale yellow. Add the vanilla extract and lemon zest until it's thoroughly mixed. Then, add the flour a cup at a time, until you have a crumbly dough that's starting to come together.

Turn the dough onto a pastry or cutting board. Press the dough together with clean hands until you have a smooth ball of dough. Cut the dough into two, and flatten each portion into a 1/2" disc. Wrap with plastic/beeswax wrap, and freeze for about 15 minutes. Alternatively, refrigerate until you're ready to use the dough. (**The chilling part is not necessary, I just think it makes rolling the dough easier**).

On a lightly floured surface, roll each disc of dough until it's 1/4" thick. Cut out an even number of 3" circles with a cookie cutter. Use a small cookie cutter to cut out a shape from half of the cookies. Place the cookies 1" apart on the prepared sheets, and bake for 10-12 minutes, until the bottoms and edges are lightly browned. (You may have to bake the cookies in batches). Let cool for about 5 minutes on the pan, and then move the cookies to a wire rack to completely cool.

Once the cookies are cooled, spread about 1 teaspoon of jam onto the bottom cookies, and then sandwich the cut-out cookies on top. Dust with powdered sugar, and store in an airtight container for up to a week.
Serving: 1cookie, Calories: 158kcal, Carbohydrates: 18.6g, Protein: 1.5g, Fat: 8.8g, Saturated Fat: 5.5g, Cholesterol: 23mg, Sodium: 116mg, Sugar: 6.8g
---
xo Sara Lynn
*Song of the day: Wonderful by My Morning Jacket