Apple Cider Whoopie Pies with Salted Caramel Frosting
Spiced apple cider whoopie pies with cinnamon, brown sugar, vanilla, and a creamy salted caramel frosting. The only treat you need for sweater-wearing, leaf-falling, chilly autumn days.
ICYMI Marc and I bought a house. Yep! A whole ass house. We're not quite sure who decided we're grown up enough to do this sort of thing, but here we are! And shortly after moving in we discovered that we have an apple tree in our front yard! We danced and shouted and had a little party about it, and then we looked about 12 inches south at the ground and realized how many apples we'll be cleaning up in approximately two months. Isn't home ownership great?!
Anyways, now that's it has officially dropped ten or so degrees, I am adorning my ever-growing collection of chunky knits, and I'm considering getting into fleeces this year. Sufjan even put out a new album just in time for fireplace season (SUFJAN YOU GET ME), and everything in my house has turned pumpkin-ed and spiced and brown buttered. It's the most wonderful time of the year, folks!
And to celebrate, let's make some apple cider whoopie pies!
Hi, this is the only dessert I want to eat all fall
Well, maybe not, but it's a top contender. I may have (definitely) put all the leftovers in the freezer so I can munch on them through the end of the year. Apple cider whoopie pies taste exactly like what you'd think! Thanks to some concentrated cider (more on that later) and applesauce, we get a super intense apple cookie spiced with cinnamon and vanilla and sandwiched with a salted caramel frosting! I also use less flour in my whoopie pies, because I like them to be uber-soft and thin. Traditionally, whoopie pies are a bit thicker, but I just personally like a thinner cookie sandwich.
Additionally, because I'm picky when it comes to frosting, I decided to use my grandma's caramel frosting (a.k.a. penuche) which is absolutely one of my favorite frostings ever. I can, and will, eat it with a spoon.
If you're more of an apple person than a pumpkin person (hi, me sometimes?), then this is the recipe you want to make this year, trust. Not only is it easy, but whoopie pies are basically a cake sandwich. If that doesn't get you, I don't know what will.
Here are some ingredients you'll need!
I know I said "apple cider concentrate" earlier, but don't worry, I'm not going to make you Amazon ingredients here. Everything you need is pretty basic!
Apple cider: Obvs. Make sure you get cider and not juice! I like Martinelli's or fresh from the local orchard when I can get my hands on it.
Flour: Just regular all-purpose!
Baking powder and baking soda: The combo of these two ingredients will give us a nice spongy cookie.
Apple pie spice, cinnamon, and salt: If you can't find apple pie spice, use pumpkin pie spice or replace with cinnamon or other warm, cozy spices (cloves, nutmeg, ginger, etc.)
Vegetable oil: We're going with oil instead of butter here! As much as I love butter, I also love not creaming stuff together. Plus, the vegetable oil makes these cookies soooo soft.
Dark brown sugar: I prefer dark, because it's extra caramel-y, but light works too. You will need this for the cookies and frosting.
Applesauce: Extra apple flavor!
Eggs: For stability and moisture.
Vanilla: Because vanilla belongs in everything.
Butter: Unsalted for the frosting. No need to soften.
Heavy cream: Whole milk works too. My grandma's original recipe calls for whole milk, I usually use heavy cream because…gluttony?
Powdered sugar: To whip up that frosting so it's fluffy and delicious.
How to make apple cider whoopie pies
First, you'll want to do is make some apple cider concentrate! Simply pour it into a pan, bring to a boil, and stir occasionally until reduced to about 1/3 cup. This will take anywhere from 20-30 minutes.
While that's going on, whisk together your dry ingredients: flour, baking powder, soda, salt, and the spices. In a larger bowl, whisk together the vegetable oil, brown sugar, applesauce, eggs, and vanilla.
Stir in half the dry ingredients followed by half the apple cider concentrate and repeat until your batter is nice and smooth. Don't overmix!
Next, spoon the cookies 2 Tablespoons at a time at least 2 inches apart. Bake until just done and then let cool.
While the cookies cool, make the frosting. Melt the butter and add the brown sugar, stirring until dissolved. Add the milk or cream and let boil. Remove from heat and add the salt and vanilla. Let cool for a bit, and beat in the powdered sugar until nice and fluffy!
Pipe the frosting on half of the cooled cookies, and sandwich the remaining cookies on top. Try not to eat all at once.
Pro Tip: Don't overbake!
Overbaking the apple cider cookies is a huge bummer. They get overbaked and dry very quickly, which will lead to crumbly whoopie pies and sadness. To keep from overbaking, start checking for doneness at around 8 minutes. Just give them a light poke with the pad of your finger, and the cookies should spring back. If they spring back right away, they're good to go.
Juice vs. cider
Apple cider is raw and unfiltered. It has a bit more sediment, but it also is usually fresher and more flavorful. Apple juice, on the other hand, is filtered and usually pasteurized. Somewhere along the way, it typically loses flavor sitting on the shelves. Additionally, apple juice is sometimes added with a bunch of other funky ingredients and other fruit juices.
For the apple cider whoopie pies, you need to get cider! The cider is going to reduce down into a nice flavorful concentrate. If you're going with fresh-pressed juice, apple juice is fine, because fresh-pressed is usually unfiltered. But if you're buying from a typical grocery store, find that cider.
Well, that got confusing. Makes sense though?
Storing the cookies
Store any leftover apple cider whoopie pies in an airtight container at room-temp for up to 3 days. Don't stack them on top of each other or they'll stick together (learn from my mistakes). I prefer not to stack them in layers if possible, but if you have to, just make sure to put some parchment or wax paper in between the stacks.
You can also store them in the refrigerator. I usually don't because the moisture in the fridge will dry out the cookies. But, they are super delicious cold, so if that's your thing, you can always refrigerate them for a few hours!
But how do I keep them from sticking?
Great question! It is true that whoopie pies can get very sticky after baking. I have never had a commercial whoopie pie, but apparently they come individually wrapped in cellophane and always stick to the packaging. So, that might just be part of the charm of whoopie pies in general!
However, there are a couple of things you can do to make sure they don't become a hot mess. First, make sure they are completely cooled before frosting and storing. Putting warm cookies or cakes in an airtight container creates condensation which will definitely make them sticky. Additionally, store the whoopie pies in a single layer and not on top of each other. If you must layer them, just make sure to separate each layer with parchment or wax paper.
Worst case scenario, the cookies stick a little and you enjoy them anyway! C'est la vie.
Freezing the cookies
Many other guides on the internet recommend individually wrapping each whoopie pie and then storing in an airtight container. This is most likely the best way to do it, but to be honest, I don't buy plastic wrap anymore! What I ended up doing is layering the whoopie pies between parchment paper and then freezing in a heavy duty airtight container, and it worked great for me!
You could also freeze the apple cider whoopie pies in a single layer on a baking sheet for 2-3 hours and store them in an airtight container. Without the "double wrapped" method, they are more likely to get freezer burnt quicker. But as long as you use them within a month, they should be ok!
To defrost, just take the whoopie pies out of the freezer and place them in a single layer on a tray. Bring to room temperature for at least an hour.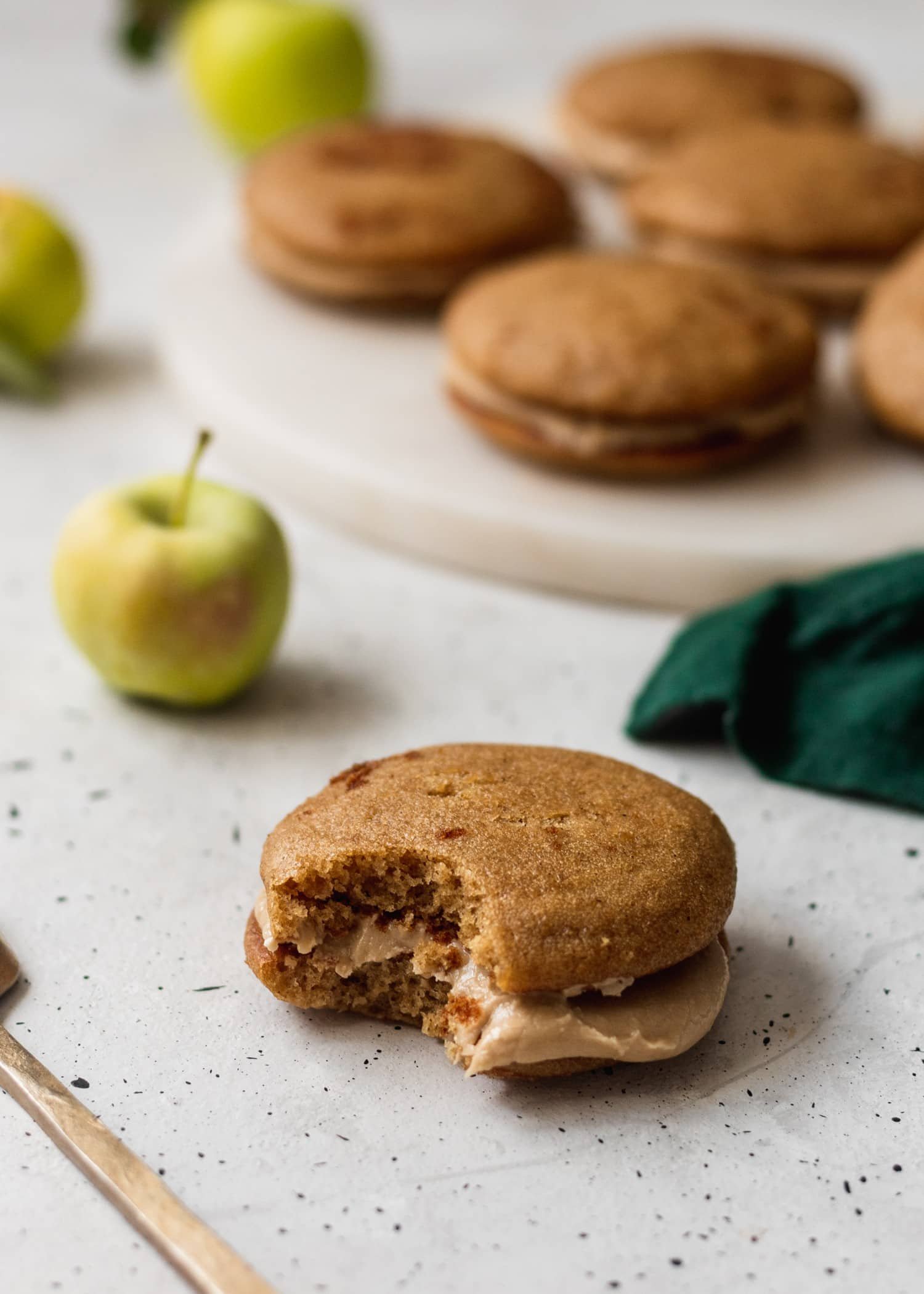 Other autumn apple recipes to try!
Caramel Apple Pie with Brown Butter Crust
Apple Butter Cinnamon Rolls with Brown Butter Frosting
Gluten Free Apple Crisp with Irish Whiskey
Apple Galette with Butterscotch Sauce
Sage Apple Butter
If you make this recipe, I would love it if you left a star rating and review! I read every single comment and love hearing what you think about my recipes. Thank you for supporting Sunday Table!
---
Apple Cider Whoopie Pies with Salted Caramel Frosting
Soft, spiced apple cider whoopie pies with cinnamon, brown sugar, and vanilla sandwiched with homemade salted caramel frosting.
Ingredients
Apple Cider Cookies
1 1/2 cup apple cider
2 1/4 cup all-purpose flour
1 tsp baking powder
1 tsp baking soda
1/2 tsp salt
1 tsp apple pie spice
1/2 tsp cinnamon
1/2 cup vegetable oil
1 cup dark brown sugar
3/4 cup applesauce (no sugar added)
2 eggs
1 tsp vanilla extract
Salted Caramel Frosting
1 cup dark brown sugar
1/2 cup unsalted butter
1/4 cup heavy cream + more for thinning
1/4 tsp kosher salt + more to taste
1 tsp vanilla extract
2 cup powdered sugar
Instructions
Start by making the apple cider concentrate. Pour the apple cider into a small pan, and bring to a boil. Stir occasionally and let boil until the cider reduces to 1/3 cup, about 20-25 minutes. Let cool for about 10 minutes.

While the apple cider is reducing, start on the cookies. Preheat the oven to 350°F, and line two sheet pans with parchment paper. In a small bowl, whisk together the flour, baking powder, baking soda, salt, apple pie spice, and cinnamon. Set aside.

In a large bowl, whisk together the vegetable oil, dark brown sugar, applesauce, eggs, and vanilla. Whisk in half of the dry mixture followed by half of the apple cider reduction. Repeat with remaining ingredients until the batter is thoroughly mixed. Don't overmix! The batter should be thick and creamy.

Spoon the batter 2 Tablespoons at a time (1 Tbs. for minis) as round as possible at least 2 inches apart. They may be a little runny, but that's ok! Bake, checking for doneness at 8 minutes. To see if they're baked, lightly press the top of a cookie with the pad of your finger. If the cookie springs back, it's done! Be careful not to over bake the cookies, or they will be dry. Place the cookies on a cooling rack and let cool completely.
Salted Caramel Frosting
While the cookies bake, start on your frosting. Place the dark brown sugar and butter in a medium saucepan. Bring to a boil.

Add the heavy cream, and stir to incorporate completely. Let boil for about 3-4 minutes, until the brown sugar is completely dissolved. Remove from heat and stir in the salt and vanilla. Transfer the mixture to a bowl, and let cool for about 20 minutes.

Beat the powdered sugar into the caramel mixture until smooth and fluffy. Add more cream to thin or more powdered sugar to thicken, as desired. Taste, and add more salt as desired.

Using a piping bag, pipe the salted caramel frosting onto the flat side of half of the cookies. Place the other half of the cookies on top of the frosted ones, sandwiching them together. Store in an airtight container at room temperature for up to 3 days, or freeze for up to 2 months.
Serving: 1whoopie pie, Calories: 446kcal, Carbohydrates: 67.5g, Protein: 3.6g, Fat: 18.7g, Saturated Fat: 7.5g, Cholesterol: 51mg, Sodium: 326mg, Potassium: 165mg, Fiber: 0.9g, Sugar: 48.2g
---
xo Sara Lynn
*Song of the day: Tell Me You Love Me by Sufjan Stevens