Witches Brew Cocktail Punch
Let's get spooky with this witches brew cocktail punch! This cocktail is made up of pomegranate, blueberry liqueur, tequila (or vodka), and lemon for a sweet, tart, and refreshing drink. Make it as a batch cocktail for a crowd or as an individual drink – it's the best Halloween cocktail ever!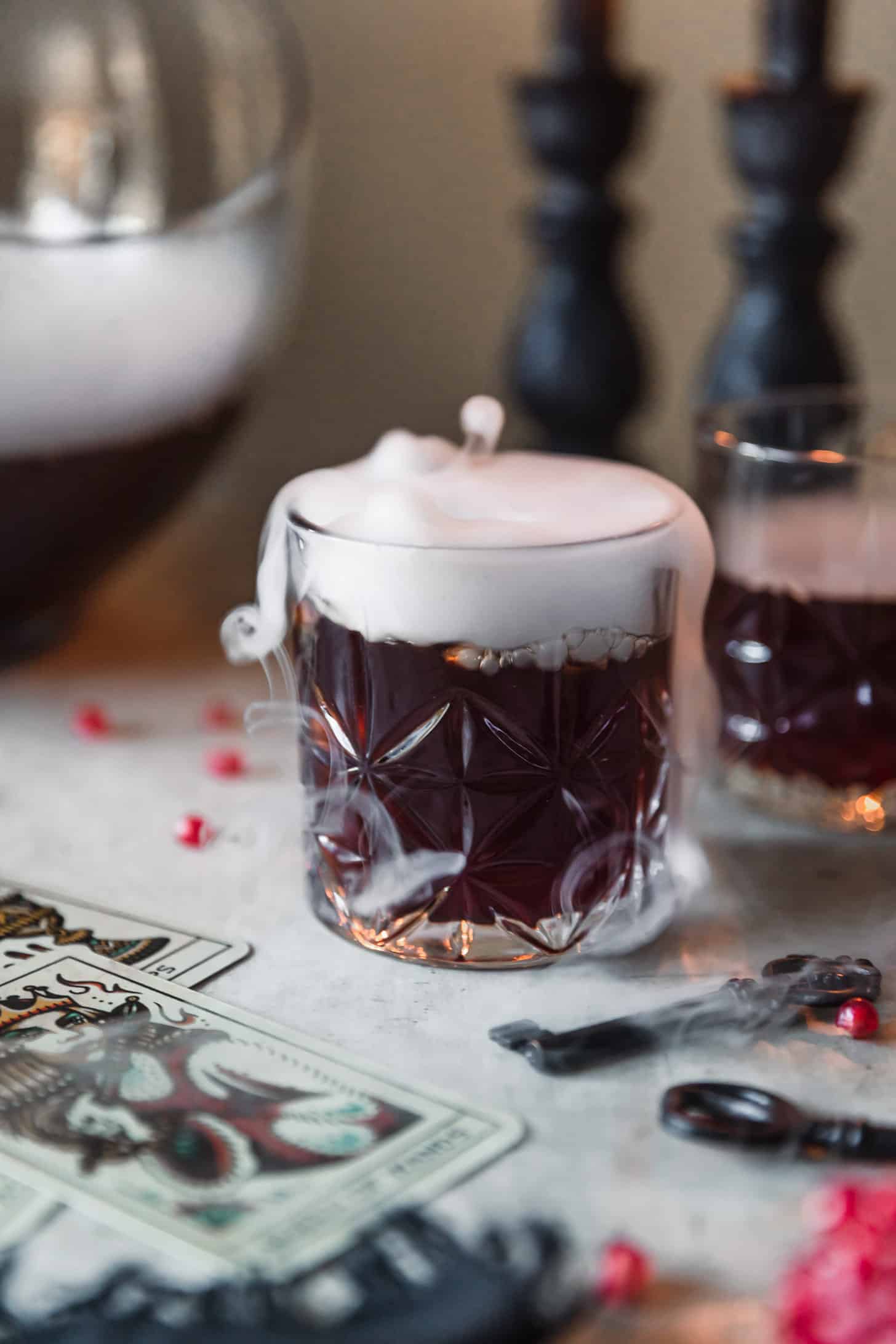 Spooky szn is here! I'm v excited even though I'm actually like, a huge baby about anything scary. But when it comes to costumes and glittery decorations and themed cocktails? Yeah, I'm so in. And since this year we're actually being cool and going to a real life party, I'm going to make some punch about it!
Cocktail punches are my favorite way to party because they take like, 5 minutes to mix up and they're easy to serve to a crowd. I'm in awe of my friends who go full bartender with cocktail smokers and fancy ice molds but I don't know if I'm there yet. So this year, we're making punch. It's sweet, it's tart, there's fog! Oh, and there's booze, duh. Your friends are going to be into it, promise.
What is witches brew cocktail punch?
So, witches brew isn't necessarily anything specific, like an old fashioned or French 75 which has pretty specific ingredients. Every blogger has their own take which makes this cocktail pretty interesting! Generally though, witches brew cocktails are green, purple, red, or blue and have sweet-tart flavors.
Last week on Instagram, I asked my followers what a 'Halloween' cocktail looks like. I got a lot of 'black', 'purple/red', 'tart', and 'spooky'. So, I basically just combined all of that into this punch! We have pomegranate and blueberry which gives this cocktail a tartness reminiscent of candy. It's also a bit sweet (but not too much). In this version, we're making a punch because it's way easier to serve to a crowd at Halloween parties. Also, we're adding dry ice because it's maybe the coolest thing I've ever seen.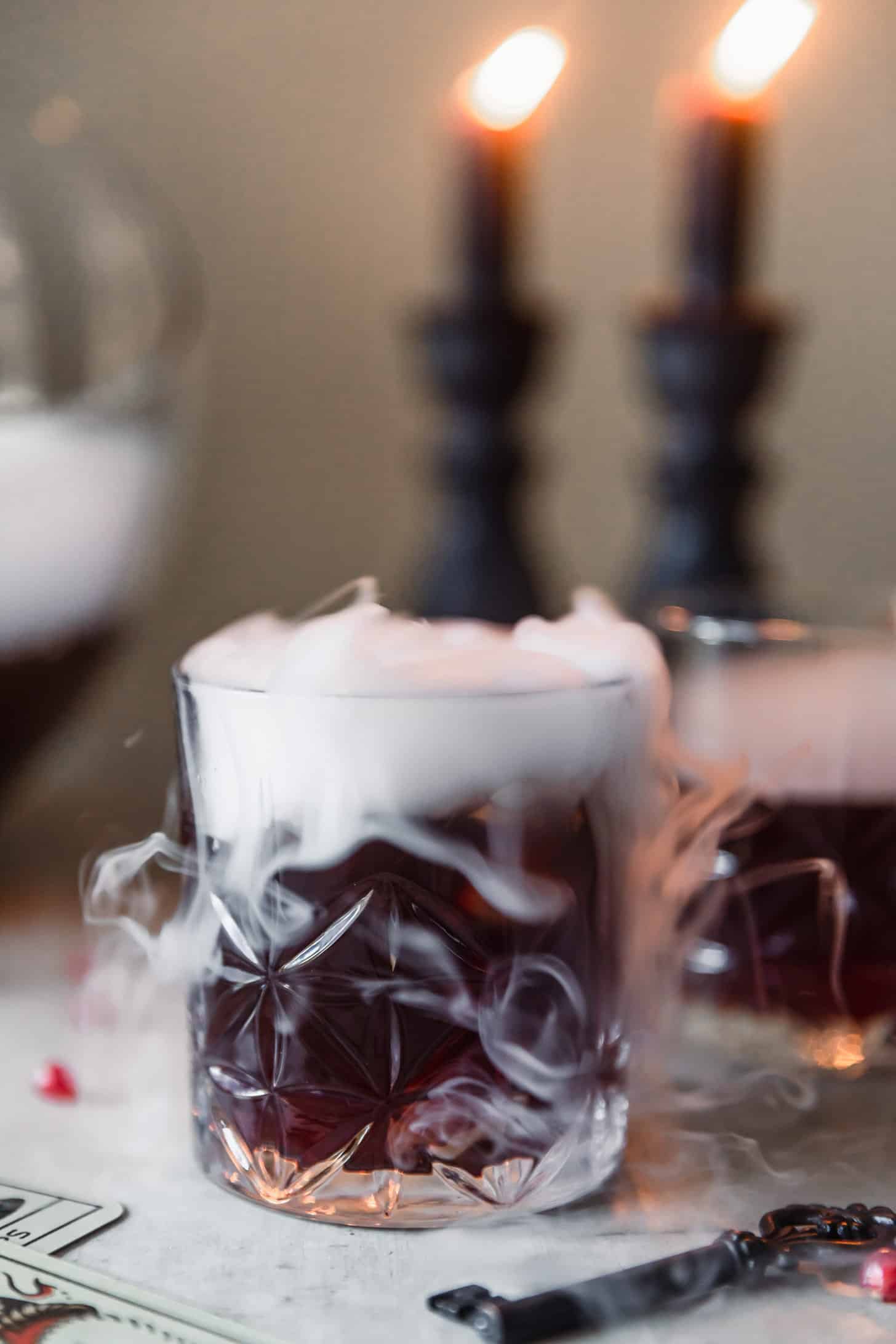 Ingredients + substitutions
Here's what you need to make these cocktails! We do have a few substitutions as well if you're looking to switch this drink up a bit.
Blanco tequila (silver) – mezcal would also be delicious for a smoky flavor. If you're not a fan of tequila, you can also use vodka. This is the tequila I used in my witches brew cocktail punch.
Blueberry liqueur – this can be found in the liqueurs and cordials section. If you can't find blueberry, I think raspberry or blackberry would be delicious too!
Pomegranate juice – make sure it's unsweetened or the cocktail will be too sweet.
Lemon juice – use freshly-squeezed for the best flavor and tartness.
Simple syrup – you can use store-bought or make your own by boiling equal parts of sugar and water.
Club soda – for a little fizziness.
How to make this punch
You can make witches brew cocktail punch either as a batch cocktail or an individual drink. If you're serving a crowd, I'd definitely recommend batching to make it easier! If you're only making a couple of drinks, the individual version is super easy to whip up.
Batch cocktail (pitcher or punch bowl)
In a large punch bowl or pitcher, combine the simple syrup, tequila, blueberry liqueur, pomegranate juice, and lemon juice. Stir it well and refrigerate until you're ready to serve.
Right before serving, add the club soda and combine.
If you want that super cool smoky effect, add the dry ice right as your friends arrive!
Individual drink (rocks glass)
First, add the simple syrup, tequila, blueberry liqueur, pomegranate juice, and lemon juice to a cocktail shaker. Fill with ice.
Shake until the outside is frosty, about 30 seconds. Then, strain the mixture into a rocks glass. If you want to keep the drink cold for longer, you can add a large ice cube.
Top the cocktail with club soda and gently stir. Enjoy!
Serving ideas
I usually just serve this cocktail sans garnish but if you want to spruce things up, here are a few ideas!
Sugar (or salt) rim – for a super cool look, you can use black, red, or purple sanding sugar. Or, if you want more of a 'margarita' feel, try a salt (or black salt) rim.
Tajín – if you like a bit of spice. It goes so well with the tequila!
Fruit – garnish the drink with pomegranate arils, blueberries, or lemon wedges.
Halloween glasses/straws – this would look so cool in a Halloween-themed glass! You could also use cute straws, drink stirrers, etc.
Dry ice safety tips
Obviously the coolest part of this drink is the dry ice! This was my first time using it and I seriously want my full time job to be playing with dry ice. But, you also need to use it safely cause it can be a mess if you don't. Here's a few tips for safely using dry ice in drinks.
Use glasses + tongs – any time you're using dry ice, wear safety goggles or glasses and use tongs to place it in drinks (it may make a squealing noise, totally normal). Do not touch it! It can burn your skin or cause frostbite.
Store it properly – buy the dry ice 1-2 hours before you plan to use it or it could melt. Then, place it in a cooler with the lid open. Don't place it in the freezer or put the lid on the cooler or the pressure could cause it to explode a little.
Don't let kids or pets near it – again, it can cause burns or frostbite! I store it in a cooler in my garage to keep it out of the way.
Do not drink the dry ice – to prevent burning/freezing your throat. Wait for it to finish smoking before you enjoy the cocktails!
How to use dry ice in drinks
Now that you know that dry ice is safe to use in drinks (pleeease read the above tips first!), it's time to make cocktail magic.
Buy dry ice 1-2 hours in advance – some grocery stores have it available, but I usually get it from the ice store down the street from my house.
Make sure to get enough – a 1-inch chunk will make an individual cocktails bubble for about 5 minutes. A 3-inch chunk is enough for a punch bowl. I got 2 pounds for this cocktail which had it bubbling all night (but honestly, 1 pound would have been plenty).
Break the ice – don't forget your safety goggles! I also recommend gloves. Right before serving, grab the bag of ice and drop it on the ground a few times to break it up.
Place the ice in the punch – put on your safety goggles and grab some tongs. Using the tongs, carefully pick up a 3-4 inch chunk of ice and place it in the punch bowl.
Add more as-needed – if you just want to use dry ice as a cool party trick, add a couple 3-4 inch chunks and then let guests enjoy. If you want to keep the party going, add more as the fog evaporates.
Breaking the dry ice
Sometimes, dry ice comes in larger chunks. The easiest way to break it up is to drop the bag on the ground a few times. Make sure to wear safety goggles/glasses and maybe gloves to prevent burns!
You can also place a towel over the bag and use a hammer to break it up. Again, please don't forget goggles or glasses.
Recipe tips & tricks
Chill the ingredients so they're cold when you mix the cocktail. I don't recommend adding regular ice to the punch or it will water it down. Since dry ice is a gas (carbon dioxide) and not liquid, it will keep the punch cool without diluting it.
Make this cocktail in advance. Just mix everything but the club soda and dry ice and refrigerate. When you're ready to serve, just mix in the club soda and add the ice.
Ladle the cocktail. I know 'scooping' punch with cups is a thing but when it comes to witches brew cocktail punch, you'll want a ladle. We don't want guests getting burnt on dry ice!
For a less boozy cocktail, reduce the tequila or add more club soda (just don't add too much or it will water down the drink).
More fall cocktails
Blood Orange, Bourbon, & Aperol Cocktail (The Crumpled Receipt)
Cadillac Cranberry Margaritas
Apple Cider Bourbon Cocktails
Sage Greyhound Cocktails
Pomegranate Brown Derby Cocktail
If you make this recipe, I would love it if you left a star rating and review! I read every single comment and love hearing what you think about my recipes. Thank you for supporting Sunday Table!
---
Witches Brew Cocktail Punch
This witches brew cocktail punch is the best for Halloween parties! Inspired by Halloween candy, it has pomegranate, blueberry, lemon, and tequila (or vodka) for a fruity, tart cocktail. Add dry ice to the punch bowl for a fun party trick, or make them as individual drinks for a few friends.
Ingredients
Party Punch
6 oz blueberry liqueur (3/4 cup)
18 oz blanco tequila, or vodka (2 1/4 cup)
6 oz simple syrup (3/4 cup)
24 oz unsweetened pomegranate juice (3 cups)
6 oz fresh lemon juice (3/4 cup)
18 oz club soda (2 1/4 cup)
1-2 lbs dry ice, for serving (optional)
Individual Drink
1/2 oz blueberry liqueur
1 1/2 oz blanco tequila, or vodka
1/2 oz simple syrup
2 oz unsweetened pomegranate juice
1/2 oz fresh lemon juice
1 1/2 oz club soda
Equipment
Punch bowl or pitcher

Ladle

Tongs and safety glasses (if you're using dry ice)
Instructions
Party Punch
In a punch bowl, combine the blueberry liqueur, tequila, simple syrup, pomegranate juice, and lemon juice. Stir well, cover, and refrigerate.

When you're ready to serve the punch, remove the bowl from the fridge. Give it another good stir and add the club soda. Stir gently.

If you're using dry ice, carefully break the ice apart by dropping it on the ground a few times (don't forget to wear safety goggles!). Using tongs, grab a couple of chunks (2-3 inches) and place them in the punch bowl. Use a ladle to serve the punch. Enjoy!
Individual Drink
In a cocktail shaker, combine the blueberry liqueur, tequila, simple syrup, pomegranate juice, and lemon juice. Fill with ice, top with the lid, and shake until frosty, about 30 seconds.

Strain the cocktail into a rocks or highball glass. Top with club soda. Enjoy!
Notes
If you want to serve the punch immediately, chill your ingredients beforehand so the cocktail is nice and cold. Don't touch or drink the dry ice, or it could cause burns or frostbite. If you're making an individual cocktail, you can strain it over a large ice cube for an extra-cold drink. To make simple syrup, stir together equal parts of water and sugar in a small saucepan. Bring to a boil, and then reduce to a simmer for 2-3 minutes, until the sugar is dissolved. Allow the simple syrup to cool completely before you add it to drinks.
Serving: 1cocktail, Calories: 176kcal, Carbohydrates: 10.1g, Protein: 0.3g, Fat: 0.1g, Saturated Fat: 0.1g, Sodium: 15mg, Potassium: 111mg, Fiber: 0.1g, Sugar: 9.7g, Calcium: 3mg
xo Sara Lynn
*Song of the day: Spooky by Dusty Springfield