Cookie Butter Cinnamon Star Bread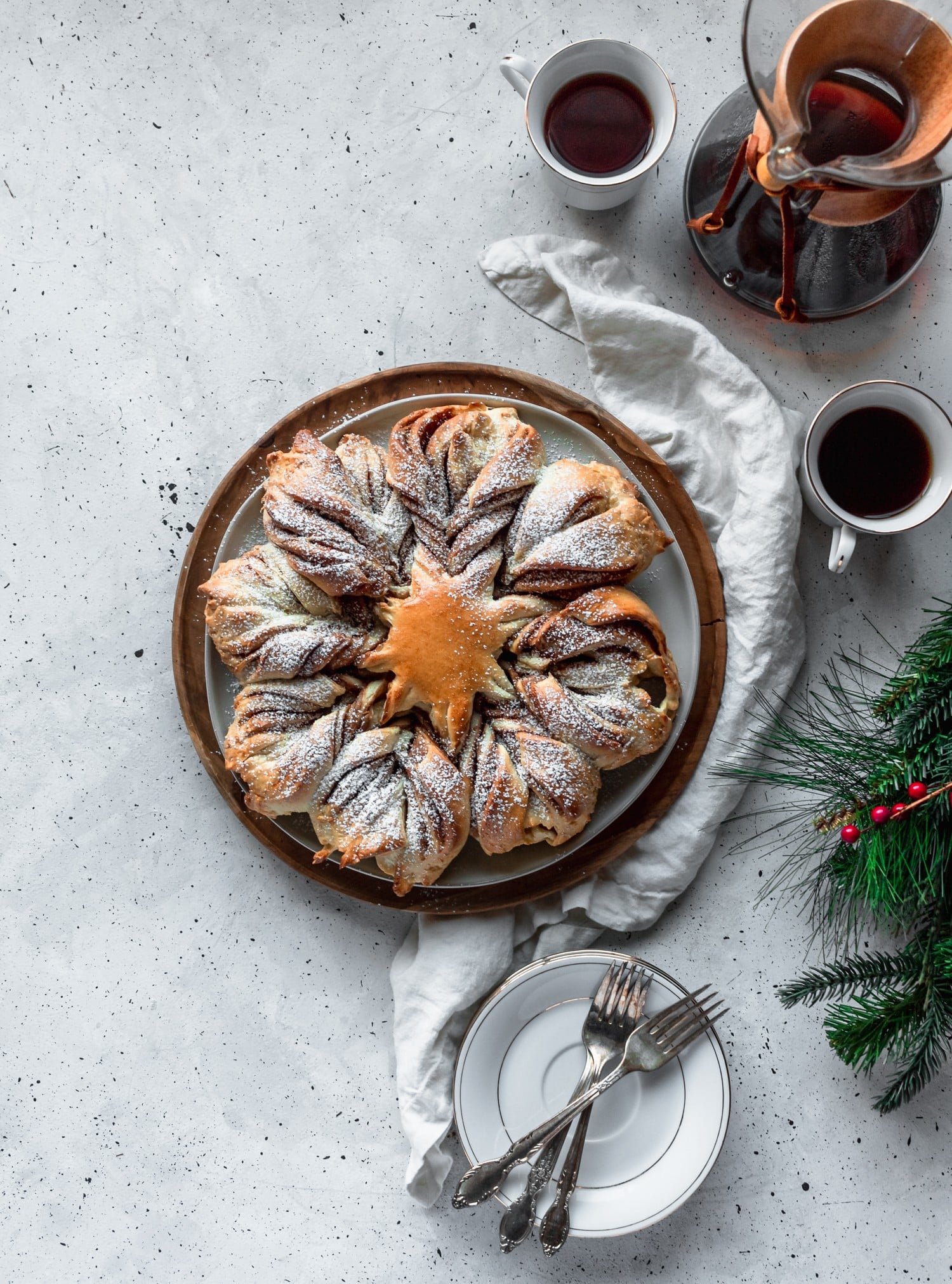 Hello, can we talk about how Christmas is in TWO WEEKS? Omg, I'm stressing. I have bought exactly zero presents and haven't even had a Christmas-light drive. My dreams of gingerbread-making may have died with my will to wrap gifts and put Christmas lights above my front door. 🆘 On the other hand, I at least have Christmas brunch planned with this cookie butter cinnamon star bread. So…yay?
Also, we get to go to The Nutcracker this weekend! I recently learned that The Nutcracker was a flop when it first premiered and wasn't even popular until 1954. Did you know that?? Poor Tchaikovsky. But, my aunt and her best friend made a ton of the costumes for the show this year, and we all get to go see them! We're going to party and drink and eat and drink and see The Nutcracker and then drink some more. I'm also going to get one of my tattoos touched up. Big things!
On a side note, I don't have high expectations for getting a Christmas present bought this weekend. Oh 🐳.
The best Christmas Eve brunch – Cookie Butter Cinnamon Star Bread!
If there is one thing that I am actually prepared for this holiday season, it's brunch! Because I'm predictable. If you remember last year, I had big plans of making brunch my own Christmas Eve tradition. And then I ended up driving Marc to the hospital instead lol. But, this year, I am determined to make this "my thing".
We'll be in Vegas celebrating with Marc's family this year, and if there is one thing about Marc's family, is it that they are v chill. I needed something that I could set on the table for everyone to snack on while standing around the counter making pizzelles or Italian wedding soup and sipping coffee. Enter star bread, the most Christmas-y thing ever!
The best thing about star bread is that it's very quick and very easy. While most shaped breads, like cinnamon rolls, need two rises, this recipe only needs one. Perfect if you're short on time (or patience). I actually found that a second rise caused the bread to lose its shape. With one rise, it really cuts down on prep time and you get a gorgeous, soft, fluffy bread! Plus, because this is a pull-apart bread, it's great for a crowd.
The ingredients you'll need
Most of the ingredients you'll need for cookie butter cinnamon star bread are things you'll find in your pantry. But, you will need some cookie butter, of course. Luckily, it's super easy to find in most grocery stores these days!
Whole milk – it needs to be whole for the correct fat ratio.
Active dry yeast – this is my personal preference (because I'm always paranoid that the yeast will be dead lol). But you can also just mix the same amount of instant yeast into the flour.
Cookie butter – I usually use Lotus Biscoff but any will do.
Cinnamon – to add a little spice! You could also try cardamom or apple pie spice for fun.
Powdered sugar – for dusting, totally optional.
Baking basics – sugar, unsalted butter, vanilla extract, eggs, Kosher salt, and all-purpose flour.
How to make this bread step-by-step
I know that this cookie butter cinnamon star bread looks intimidating, but it 100% isn't. I honestly believe it's easier than cinnamon rolls. (No rolling, no refrigeration time, no waiting on two rises!) Here's how to make this fast and simple recipe.
Sweet dough
First, mix warm milk with sugar and yeast until it's foamy, 5-10 minutes.
Add the butter, vanilla, egg, and salt until it's combined. Mix in the flour until the dough comes together.
Knead the dough for 5-7 minutes until it's smooth and slightly tacky.
Place the dough into an oiled bowl and cover with a linen. Let the dough rise in a warm spot until doubled, about 1 hour.
Cookie butter filling
In a small bowl, combine the cooke butter and cinnamon.
Next, microwave the filling until it's very spreadable 15-20 seconds.
Then, let the cookie butter cool until it's room temperature (if necessary).
Assemble the bread
Punch down the dough and divide it into four equal pieces. Then, roll each piece into a ten-inch circle. Use a pizza cutter or sharp knife to cut the dough rounds into perfect 10-inch circles.
Spread 1/3 of the filling on the first circle of dough, and then stack another circle of dough on top. Repeat, two more times, finishing with the fourth layer of dough. Don't put filling on the top layer.
Next, place a two-inch cookie cutter or bowl right in the center of the dough stacks. Use the pizza cutter or sharp knife to cut 16 even strips.
Take a strip of dough in each hand, and twist them two times in opposite directions. Press the two twists together to form a point. Repeat with the remaining strips.
Next, let the dough rise for another 20 minutes. Brush with egg wash and bake until it's golden-brown. Let the star bread cool completely and finish with a dusting of powdered sugar!
How to prevent dense dough?
Sometimes, sweet dough can get dense. Usually, this is for one of two reasons: too much flour or not enough kneading. Here are my top tips for keeping that dough nice & fluffy!
Don't use too much flour. The dough should just come together and have a bit of tackiness. But, it shouldn't leave dough on your hands.
Knead the dough long enough. This will develop the gluten and give us nice, soft bread! To check if the dough is ready, just give it the 'poke test'. After kneading for 5-7 minutes, give the dough a good poke. If it fills in quickly, you're ready to go. If the indentation stays, keep kneading a couple of minutes at a time.
More filling ideas
Not into cookie butter? You can use other fillings if you'd like! Try:
Chocolate spread or Nutella
Jam, apple butter, or pumpkin butter
Cinnamon sugar – just brush the dough rounds with melted butter to make sure the cinnamon sugar sticks. You can also try brown sugar!
Citrus zest + cinnamon sugar
Finely chopped nuts + cinnamon sugar or chocolate spread
Storing & freezing
To store leftover star bread, place it in an airtight container or wrap it well in plastic wrap. Let it sit for 2-3 days at room temperature.
To freeze leftover bread, wrap it well in plastic wrap or parchment paper. Then, place it in an airtight container or freezer bag. Freeze for up to 2-3 months. Let it defrost, unwrapped at room temperature, for 1-2 hours before eating. I like to rewarm it in the microwave or oven!
Make-ahead
If you're short on time, you can make the dough the night before and assemble it the next morning. To make the dough ahead, just mix it up, cover it tightly with plastic wrap or a linen, and let it slow-rise in the refrigerator overnight. It should be doubled the size the next morning, but if not, just let it rise in a warm area until it's doubled. Then, in the morning, punch down the dough and assemble from there.
Tips & tricks
Make sure the active dry yeast is alive by activating it with warm milk and a little sugar. It'll get puffy in about 5-10 minutes if it's alive. If not, the mixture will not foam up and you'll have to start again with new yeast.
Warm the milk to 105-110°F for the best results. I just warm mine in the microwave for about 30-60 seconds and check it with my instant thermometer!
Let the dough rise in a warm, draft-free area. I like to heat the oven to the lowest setting, turn it off and let it cool for 5-10 minutes, and then let the dough rise in the warm oven.
To prevent the star bread from burning, bake it on a parchment-lined sheet pan on the middle rack. If it's still browning too quickly on the bottom, double up your sheet pans.
More holiday breads
Stollen with Hazelnut Marzipan
Cranberry Orange Scones with Candied Ginger
Cinnamon Swirl Bread with Streusel
Norwegian Lefse
If you make this recipe, I would love it if you left a star rating and review! I read every single comment and love hearing what you think about my recipes. Thank you for supporting Sunday Table!
---
Cookie Butter Star Bread
Cookie butter star bread is the perfect recipe for the holidays! Soft and fluffy bread is twisted with a cinnamon cookie butter filling and baked until golden brown. It's absolutely perfect with a cup of hot coffee!
Ingredients
Sweet Roll Dough
1 cup whole milk, warmed to 110°F
1 package (2 1/4 tsp.) active dry yeast
3 tbsp sugar
1/4 cup unsalted butter, softened
1 tsp vanilla extract
1 egg
1 tsp salt
3 1/2 cup all-purpose flour + more for dusting
Egg wash (1 egg + 1 Tbs. water, whisked together)
Powdered sugar, for serving
Cookie Butter Filling
6 tbsp cookie butter
1 tsp cinnamon
Instructions
Make the dough…
Mix the warm milk, sugar, and yeast in the bowl of a stand mixer. Let it stand for 5-10 minutes, until foamy. Add the butter, vanilla, egg, and salt until well combined. Then, mix in three cups of the flour until the dough starts to come together.

Using a dough hook (or your hands), knead for 5-7 minutes, until the dough is smooth and slightly sticky. It should be tacky but shouldn't leave any dough on your hands. If it's too sticky, add flour 2 Tbs. at a time until it's the right consistency. You may need up to 3 1/2 cups of flour total.

Place the dough in an oiled bowl, and cover with a towel. Place the dough in a warm, draft-free spot and let it rise until doubled in size, about 45-60 minutes.
Make the filling…
In a small bowl, stir together the cookie butter and cinnamon until well combined. Microwave for about 20 seconds until it's very spreadable. (You may need to microwave it a few times throughout the spreading process).
Assemble the star bread…
Punch down the dough to release any air bubbles. Divide the dough into four equal pieces. Roll each piece of dough into a 10-inch circle on a lightly floured surface. Use a 10-inch plate or bowl to make an imprint in the surface of the dough. Using a pizza cutter or sharp knife, cut around the imprint until you have four perfect 10-inch circles.

Place one circle of dough on a piece of parchment paper. Spread 2 Tbs. of the cookie butter filling on the dough, and top with another layer of dough. Repeat two more times, finishing with the fourth layer of dough. No filling goes on top of the fourth layer!!

Place a 2-inch round cookie cutter or bowl in the center of the dough stacks. Using a pizza cutter or sharp knife, cut 16 even strips around the center of the dough, leaving the two inches in the center intact. I did this by cutting the dough into four equal sections in a cross shape and then cutting each quarter into four strips.

Grab two adjacent strips, placing one in each hand. Twist the strips two times in opposite directions (I twist them away from each other). Press the ends together to make a point. If they don't stick, use a very small amount of water or egg wash to press them together. Repeat with the remaining strips. You will have 8 points total.

Transfer the assembled bread on the parchment paper to a baking sheet. Cover with a towel, and let it rise in a warm spot for 20 minutes, or until puffy.
Bake the star bread…
Preheat the oven to 350°F. Brush the assembled star bread with egg wash. Bake for about 20-25 minutes, until it's a beautiful golden brown. The internal temperature should register 190°F.

Let it cool on the counter for about 5 minutes. Dust with powdered sugar, and serve with lots of hot coffee!
Serving: 1serving, Calories: 365kcal, Carbohydrates: 54.4g, Protein: 8.2g, Fat: 12.4g, Saturated Fat: 5.2g, Cholesterol: 39mg, Sodium: 378mg, Potassium: 136mg, Fiber: 2g, Sugar: 10.1g, Calcium: 51mg, Iron: 3mg
---
xo Sara Lynn
Song of the day: Have Yourself a Merry Little Christmas by Frank Sinatra