A Cozy, Simple Fall Charcuterie Board
Let's talk about this simple fall charcuterie board. Not only is it a cozy appetizer for a party or the holidays, but trust me when I say that everyone loves a good charcuterie situation. With meat, cheese, and lots of fall snacks, these are all of my favorite ideas and tips for an autumn-themed grazing board!
If you were to ask me if my holiday menus are planned and ready to be executed for the year, the answer would be yes, absolutely, of course. Actually, I've been dreaming about this since mid-June when I burned my hand on a sun-soaked doorknob and immediately became over summer.
So, plan I did. And an array of pumpkin spice, caramel apple, and cozy gravies popped into my brain. A vision board if you will.
Luckily, this charcuterie board made the cut, because it is honestly a necessary part of your next dinner party. If you love a no-cook appetizer like marinated mozzarella balls with lemon and basil or mini cranberry orange cheese balls, make sure to add this one to the roster. It's pretty, it takes 15 minutes to make, and everyone's down for a charcuterie situation. Let's make it!
Why you'll love this board
After many years of throwing parties and making appetizers, I always come back to the humble charcuterie board. It's been my signature app for 10 years and I never get sick of it.
This charcuterie board is no-cook and super simple.
It's filled with tons of fall-themed snacks.
This app is great for parties, holidays, & get togethers.
It's a huge crowd-pleaser and completely customizable.
The ingredient list
The cheeses
You'll want 3-4 cheeses for this autumn charcuterie board. Pick something hard or semi-hard, something soft and spreadable, and a blue cheese. For a fourth option, pick something a bit unique and fun. Choose a variety of cheeses to keep things interesting, and try to stick to autumn flavors if you can!
Hard – Parmesan, Emmental, gruyère
Semi-hard – sharp cheddar, aged gouda, havarti
Soft – triple-cream brie, goat cheese, port salut
Blue – Stilton, Roquefort, gorgonzola
Unique – spicy cheeses, seasonal flavors, etc.
Pro tip!
To fit the autumn vibe, look for seasonal cheeses with fall flavors. For example, cranberry white cheddar, Syrah-soaked cheese, pumpkin spice gouda, and the like. Trader Joe's and my local cheese shop are my go-to places to find some unique options!
The meats
Next up, you'll want to choose 2-3 meats. In autumn, I like to choose options that are a bit heartier.
Peppered salami
Prosciutto
Bresaola
Coppa
Chorizo
Crackers + breads
Choose around 2-3 crackers or breads to serve with the meats and cheeses.
Fruit & nut crisps (store-bought or homemade)
Water crackers or buttery crackers (like Ritz)
Herb, garlic, or onion crackers
Crusty bread (sourdough, seeded bread, etc.)
Breadsticks or cheese sticks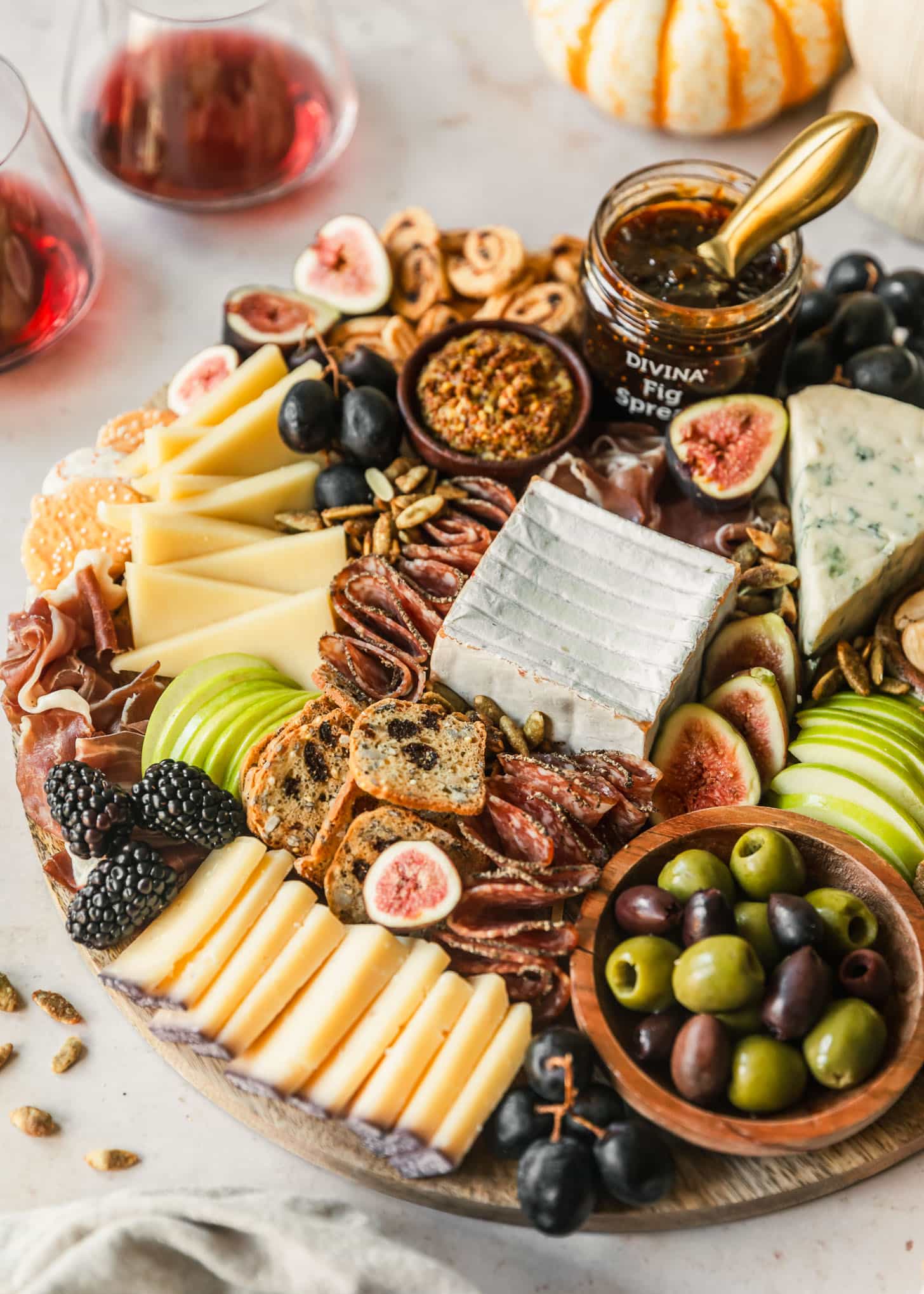 Fall fruits
Take advantage of the season and pick out 2-3 autumn fruits to add a pop of sweetness. Dried fruit works too!
Apples or pears
Grapes (any color)
Figs or persimmons
Blackberries
Cranberries or pomegranate arils
Add-ons
Now for the fun part. Pick a few fall-themed add-ons to round everything out! This is the time to stroll through the seasonal section and pick up some fun ingredients.
Spreads – apple butter, pumpkin butter, fig jam, mustard
Nuts/seeds – pumpkin spice pepitas, rosemary Marcona almonds, nut mix
Sweets – cookies, dark chocolate, honey, candied nuts
Dips – hummus, artichoke dip, crab dip, olive tapenade
Briny things – olives, pickles, peppers
How to make this board
Start by placing any bowls of ingredients on the board. For example, jars of jam, bowls of spreads, and bowls of pickled items or nuts.
Next, add the cheeses. Arrange the cheese on different areas of the board for easy grabbing!
Place any other larger items like piles of crackers, cookies, or breadsticks on the board next to the cheeses.
Then, add the meats. Fold the meats and place them in-between the cheeses and crackers to help fit more on the board.
Add the fresh fruit in different areas around the board. You can also add piles of dried fruit at this point.
Lastly, fill in the board with little items like small cookies, nuts, seeds, or candies. You can also add any decorations at this point if you want. Enjoy!
Quick tip
For easy serving, slice any hard or semi-hard cheeses beforehand. Make sure you also have knives for softer cheeses and spreads!
What kind of board should I use?
To fit the autumn vibe, pick a board that has warm tones. I like a nice wood board, but a gold metal platter or large autumn-themed plate would be cute too. Or, if you don't have a designated board for charcuterie, you can always use a large wood cutting board instead!
Serving ideas
This board is a lovely standalone appetizer, but you can also serve it alongside other finger foods for a whole spread. These are just a few ways I like to enjoy this board!
Serve it as an appetizer before a dinner party.
Make some other snacks and set up an appetizer table.
Enjoy this board with beer or wine (obviouslyyy).
Bring it to a potluck or a holiday like Thanksgiving.
Pro tip!
Make sure to set out serving utensils like cheese knives, food picks, small plates, cocktail napkins, tongs, and small spoons. You don't necessarily need anything fancy, but they'll make it much easier for your guests to grab snacks!
Storing & make-ahead
To store leftover charcuterie, I recommend storing everything in the original packaging or airtight containers. Refrigerate any perishable items (like cheese, meat, olives, and fruits) in the fridge for up to 1 week. Other non-perishable items like crackers, cookies, and nuts can be stored in the pantry for 1 week. I don't recommend refrigerating the board as a whole or some of the items will get soggy.
You can also make this board up to 2 hours in advance! Arrange the refrigerator-friendly items like cheeses, meats, olives, and fruit on the board, cover, and chill for up to 2 hours. Then, about 30 minutes before serving, remove the board from the fridge and add room temperature items like crackers, cookies, and nuts.
Wine pairing ideas
You obviously can't forget the wine. These are some of my favorite red and white options to go along with this autumn charcuterie board!
Red wine
Pinot noir
Syrah
Zinfandel
Barbera
Grenache
White wine
Chardonnay
Chenin blanc
Viognier
Pinot blanc
Bubbles!
Tips & tricks
For variety and texture, use ingredients with different shapes, colors, and textures. Using different autumn tones will add to the theme and make everything look pretty!
Switch up the ingredients depending on the crowd. Add more simple options for a kid-friendly board or use more unique ingredients for your foodie friends.
Add decorations to the board to make it more festive! Mini pumpkins, leaf-shaped bowls, or autumn-themed candies are all super cute.
To make this fall snack board allergy-friendly, use alternative ingredients. Try gluten-free crackers or serve nuts on the side.
You can also make this a fall cheese board. Just leave out the meats!
Recipe FAQs
What is the 3 3 3 3 rule?
The 3 3 3 3 rule is a foolproof way to creating a balanced board. To keep things stress-free, choose 3 cheeses, 3 meats, 3 crackers/breads, and 3 accompaniments. Super easy!
How long should charcuterie sit before serving?
I usually let this fall grazing board sit at room temperature for 30 minutes before serving. Cheese tastes better at room temperature because it gives time for the fat to loosen up and the texture to soften.
What fall fruit is good on this board?
Apples and grapes are classic autumn fruits that taste amazing with cheese! But, you can also use pears, figs, persimmons, or any other seasonal fruit. Or, add some dried fruit like cranberries or figs for more variety and texture. See all of my favorite fruits for this platter!
What cheese is best for fall?
There are a ton of options when it comes to cheeses that are nice and cozy in fall. Some of my faves are sharp cheddar, aged gouda, blue cheese, and anything fun and seasonal like pumpkin spice gouda or cranberry cheddar. Make sure to check out all of my go-to autumn cheeses.
More fall appetizers
Little Smokies in a Blanket with Puff Pastry
Beef Wellington Bites with Dijon Sauce
Spicy Deviled Eggs with Crispy Shallots
Savory Palmiers with Parmesan & Everything Seasoning
Tempura Fried Cheese Curds with Sriracha Mayo
If you make this recipe, I would love it if you left a star rating and review! I read every single comment and love hearing what you think about my recipes. Thank you for supporting Sunday Table!
---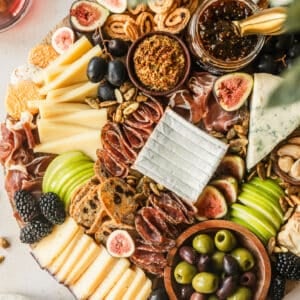 A Cozy, Simple Fall Charcuterie Board
Let's talk about this simple fall charcuterie board. Not only is it a cozy appetizer for a party or holiday, but trust me when I say that everyone loves a good charcuterie situation. With meat, cheese, and lots of fall snacks, these are all of my favorite ideas and tips for an autumn-themed grazing board!
Ingredients
12 ounces olives, pickles, or picked peppers (275 grams)
1-3 jams, spreads, or dips (~1/2 cup/135 grams each)
1/2 cup nuts (72 grams)
3-4 cheeses (~8 ounces/227 grams each)
2-3 packages of crackers or bread (4 ounces/120 grams each)
1-2 packages of autumn-themed cookies (4 ounces/117 grams each)
2-3 packages of cured meats (4 ounces/113 grams each)
1/2 pound grapes (227 grams)
1-2 apples, cored and sliced
6 ounces blackberries (170 grams)
5-6 figs, halved
1/2 cup pumpkin spice pepitas (75 grams)
Small candies, frosted cookies, seasonal items, etc. (for decorating)
Equipment
1 large cheese board

Cheese knives, for serving
Instructions
Start by placing the olives/pickles/peppers, nuts, and jams/spreads/dips into small bowls. Place the bowls in different areas of the board.

Slice any hard or semi-hard cheeses. Arrange the cheese wedges and cheese slices next to the bowls in various areas on the board. Add piles of crackers and cookies next to the cheeses.

Next, fold or roll the meats and arrange them next to the cheeses. I like to wedge them in-between cheese and bowls so they stay put. Add piles of fruit (grapes, apples, blackberries, figs, etc.) around the other ingredients.

Fill in any gaps with smaller items like pepitas, small candies, decorative cookies, or other seasonal items. Enjoy!
Notes
You will need 3-4 cheeses for this board – a hard/semi-hard, soft/semi-soft, and a blue cheese. For a 4th option, go for something seasonal/unique. I used Syrah soaked Toscano cheese, red chili pepper Fromage Pavé, Délice de Jenlain, and Point Reyes Blue. For the best flavor and texture, let the cheese warm to room temperature before serving. About 30 minutes! To make sure everything fits on the board, start with larger items and work down to the smallest. Begin with bowls and cheeses and finish with seeds or small candies. You can scale this board up or down depending on how many guests you have. Feel free to double or halve it! For the full autumn vibes, look for seasonal ingredients. For example, I chose Syrah-soaked wine, pumpkin spice pepitas, maple cookies, etc. To keep things fall-themed, use ingredients with autumn tones! Orange, brown, beige, sage green, mustard yellow, red, maroon, etc.
Serving: 1serving, Calories: 361kcal, Carbohydrates: 30.5g, Protein: 12g, Fat: 22.2g, Saturated Fat: 8g, Cholesterol: 37mg, Sodium: 537mg, Potassium: 241mg, Fiber: 4g, Sugar: 15.8g, Calcium: 218mg, Iron: 2mg
xo Sara Lynn
Song of the day – Autumn Sweater by Yo La Tengo