Pigs in a Blanket with Everything Seasoning & Parmesan
Pigs in a blanket with everything seasoning & parmesan are served with harissa ketchup and bourbon mustard for an elevated game day favorite. These are honestly the best pigs in a blanket I've ever tasted!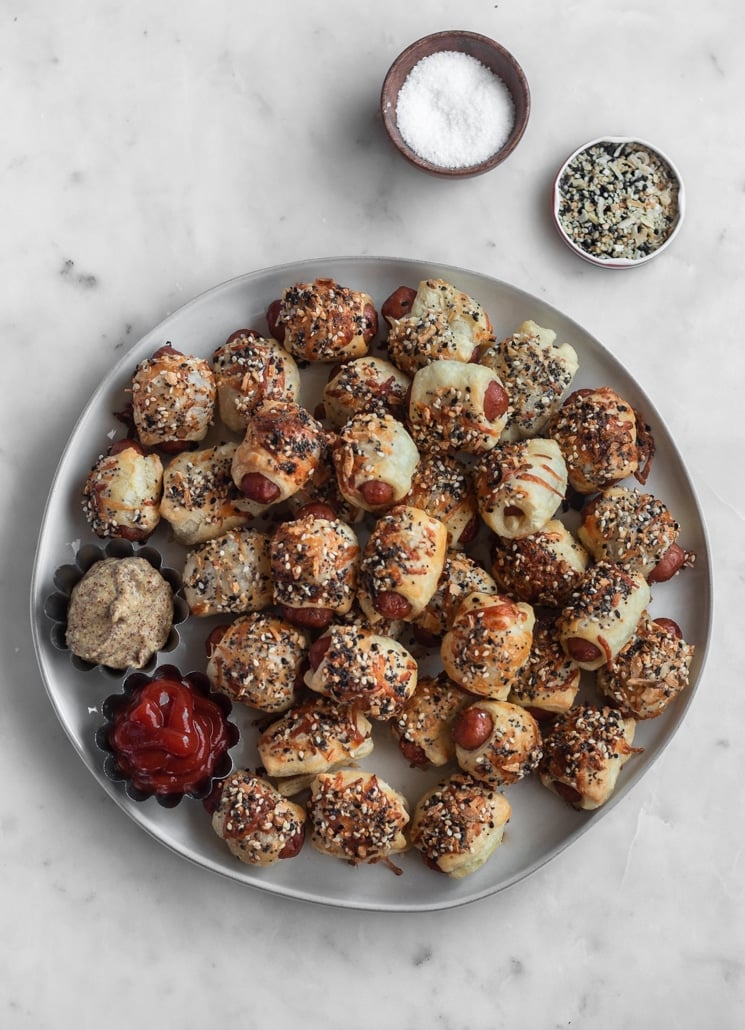 You guys are actually never going to believe this, but I think I understand sportsball now? I never thought it would happen, but here we are. I'm just as confused as you are!
The story goes like this: On Sunday night, Marc and I went to a local bar for soft pretzels, poutine, and beer. And also because Marc wanted to watch the AFC championship game. Needless to say, I went for the booze, but then something happened. I actually watched the game. The Chiefs snapped some snaps, the Patriots touched some touchdowns. I felt the tension of all the dudes at the bar. And then!! I became a Rams fan, but I don't know why! Maybe it's because everyone was just so anti-Patriots. Did the bros at the bar initiate me into sportsball? Please DM with any hot tips.
As I've said before, I tolerate sportsball because I really like the food associated with it. Occasionally, I will get emotionally involved in a Nevada Wolfpack game but mostly because it's my alma mater, and I am *loyal*. (In fact, we're going to the Pink-Out Nevada vs. Colorado State basketball game tonight!!). But usually, I am all about the eating component of sports.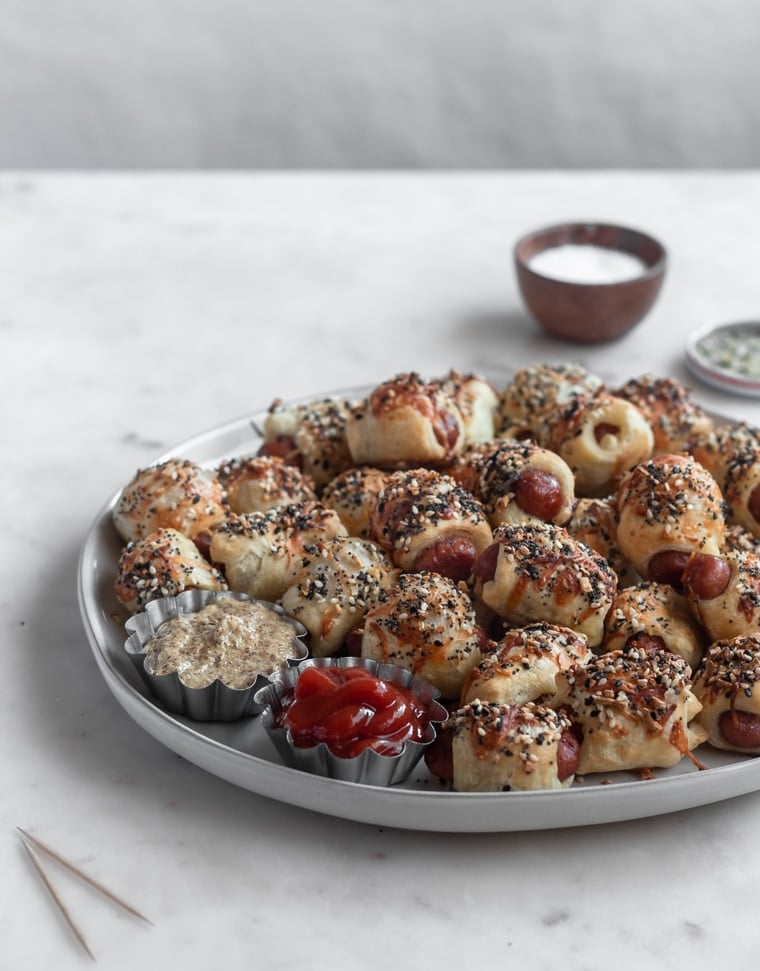 This year, we want to throw a little Superbowl party so I can essentially just make a ton of food. (And because apparently I'm a "football person" now??). Marc has let me design most of the menu (cheeseburgers, guac + chips, fried cheese curds!!), but he had one specific request: pigs in a blanket. If you've read my previous posts, you know Marc was in the hospital on Christmas Eve and most of Christmas. The boy missed prime rib, Yorkshire pudding, pies, cheeseboards, and cakes. But he was most disappointed in missing the pigs in a blanket I made for Christmas Eve appetizers.
The weird thing is that I even made pigs-in-a-blanket in the first place. I am an avid hot-dog-hater, but little smoky sausages wrapped in puff pastry is fine 🤷 So I made them, covered the bitches in everything bagel seasoning, and served them with some uber-tasty dipping sauces. Marc was so sad. We saved him some leftovers, but they just weren't the same. So, I'm making them for Superbowl, and you should too!
The best part of these pigs in a blanket is that you can make them in advance. Wrap them, freeze (or refrigerate), and bake when you're ready! I plan on doing this the night before, so they're all good to go while I'm grilling burgers in the snow. Wow, am I like, a die-hard now?!?!
*Note: You can buy everything bagel seasoning at Trader Joe's or online, but I honestly think it's way easier and cheaper to just make a big batch of your own. Just combine equal parts sesame seeds, poppy seeds, garlic flakes, and onion flakes!
Pigs In a Blanket with Everything Seasoning & Parmesan
---
Pigs in a Blanket with Everything Seasoning & Parmesan
Pigs in a Blanket with Everything Seasoning & Parmesan are served with harissa ketchup and bourbon mustard for an easy and elevated appetizer. They can also be made in advance for parties or quick snack!
Ingredients
Pigs in a Blanket
14 oz mini smoked sausages
1 package puff pastry, thawed
1 egg
1/3 cup everything bagel seasoning
1/3 cup parmesan, shredded
1/4 cup flour, for dusting
Harissa Ketchup
1/2 cup ketchup
1 tbsp harissa paste, or other chili sauce
Bourbon Mustard
1/2 cup whole grain mustard
2 tbsp honey
1 tsp bourbon
Instructions
Preheat oven to 400* F. Line two baking sheets with parchment paper. In a small bowl, whisk the egg with 1 Tablespoon of water. Set aside.

Sprinkle half of the flour on a pastry board. Lay one sheet of puff pastry on the board, and roll until smooth. Using a pizza cutter, cut the puff pastry into 7 even strips. Then, with the long end facing you, cut the pastry into four even strips. Repeat with the other sheet of puff pastry, so you have 56 strips total. This should be more than enough pastry for the mini sausages.

Roll each mini sausage in one strip of puff pastry, making sure to seal it well. You may have to stretch the pastry over the sausage a bit – just be careful not to tear it! Place the rolled sausages on the sheet pans about 1-2 inches apart. Brush each sausage with the egg wash, and sprinkle with a pinch of both everything bagel seasoning and parmesan. Bake for 15-20 minutes, until the puff pastry is golden brown.

While the pigs in a blanket are baking, prepare the sauces. In one small bowl, whisk together the ketchup and harissa. Add more harissa if you want spicier ketchup. In another small bowl, whisk together the mustard, honey, and bourbon. Add more honey for a sweeter sauce. Serve the warm pigs in a blanket with the dipping sauces! *Note: To make these in advance, store the rolled sausages in an airtight container in the fridge or freezer. Before baking, brush each sausage with egg wash, and sprinkle with both the everything bagel seasoning and parmesan. Bake as normal. If you store them in the freezer, they may take an additional 5-10 minutes to bake. The sauces can be stored in the fridge for up to three days.
Notes
If you can't find harissa, Sriracha would be a great sub! You can leave out the bourbon if you don't want boozy mustard.
Serving: 4pigs-in-a-blanket, Calories: 349kcal, Carbohydrates: 23.4g, Protein: 8.4g, Fat: 25.1g, Saturated Fat: 6.2g, Cholesterol: 42mg, Sodium: 689mg, Potassium: 95mg, Fiber: 1.1g, Sugar: 7.5g, Calcium: 93mg, Iron: 2mg
---
xo Sara Lynn
*Song of the day: Great Escape by Washed Out