Farro Salad with Acorn Squash, Kale, + Pomegranate
An autumnal farro salad with roasted acorn squash, kale, pomegranate, hazelnuts, feta, and za'atar lemon vinaigrette. This salad makes a great, fresh side dish for any cozy meal!
Oh hello friends! I feel as if I haven't had a good story for a while, but it's all been pretty mundane around here. However, I got a promotion which has been keeping me v busy (while also being exciting)! I had two recipes fail on me last week that led to a bit of raging. We're working on re-call with Bell so she stops running away from us when we're trying to leave the dog park. I might take a pottery class. I'm a work in progress, ya know?
But in other news, I am in full-ass cozy mode. It SNOWED this past weekend, and Marc had a cold, so I put on my fuzziest socks and made soup. There was a very delicious, but very ugly, pie situation that I ate standing over the stove while Strawberry Guy played in the background. (Contrary to the summery name, Strawberry Guy actually gives me intense autumnal vibes). I even lit my first apple-scented candle, which prompted a three hour Pinterest binge where I looked up affordable ways to decorate my house for autumn. So far, it's led to nothing, and my house looks exactly the same.
Then, for the grand finale of the weekend, I roasted a chicken and made this farro salad and it was the most A+ Sunday of all.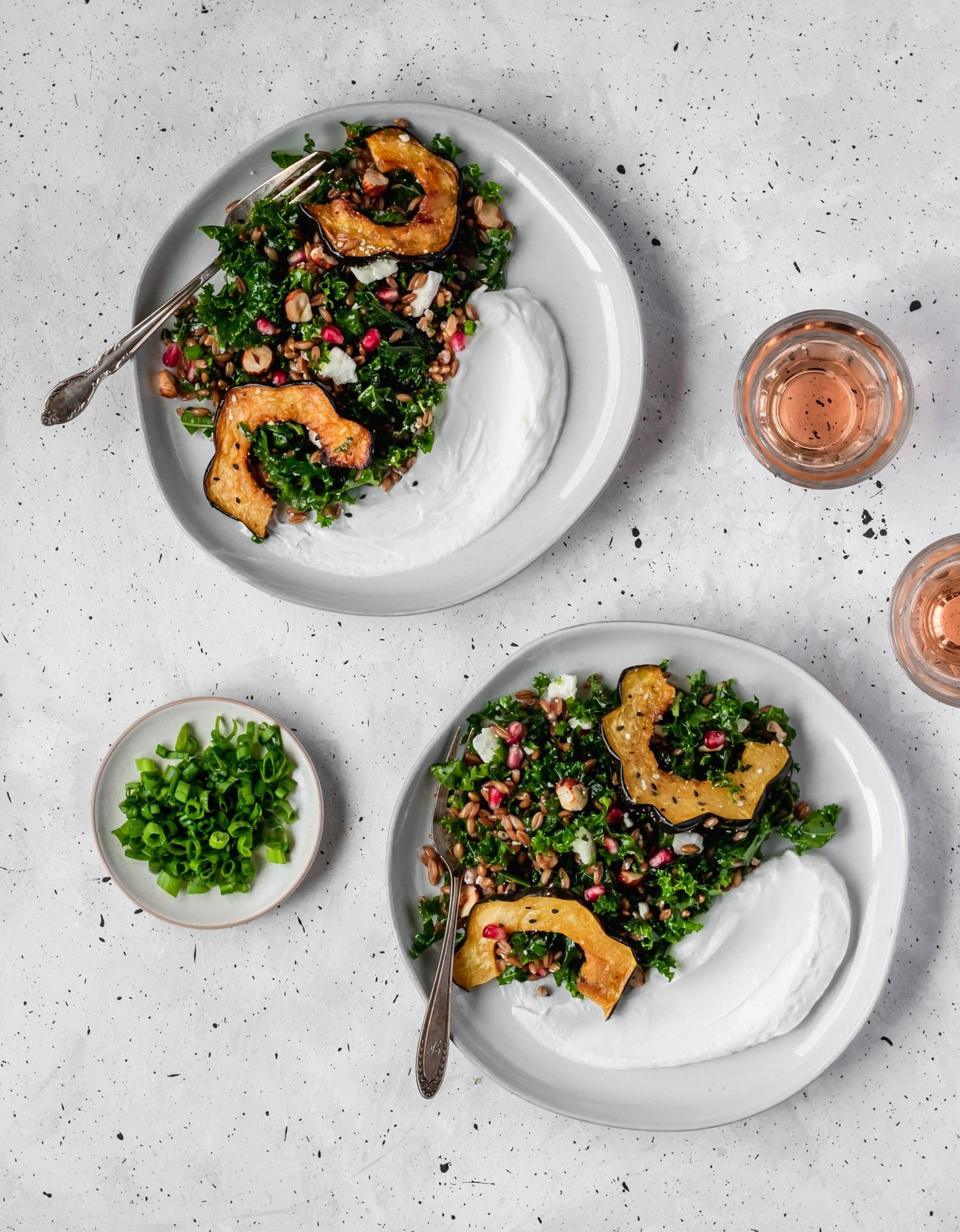 Ok, let's talk about farro!
Living on the west coast, I have seen farro on trendy local/organic/vegan restaurant menus for a minute. But I'm not sure it's made it to the rest of the world quite yet?
If not, let me be super hipster about this and introduce you to farro.
To start, it's probably the best grain. It's so chewy and nutty, ugh I love it! If you've never had farro, it's kind of like brown rice but it has a bit of a firmer texture. With the toasty flavor, it's perfect for a fall-ish salad. It also just sucks up any flavor you add to it, so it's perfect for dressings and sauces. Or sauteed with buttery garlic and shallots. YUM.
But seeing as I was going for something healthy and wholesome and not covered in butter, I made this fresh, vegetable-y salad instead. And I had two moments of clarity! The first one was realizing that slicing an acorn squash is not as difficult as I thought it would be. There was a moment as I stared them down at the grocery store and debated going with sweet potatoes, remembering the time I had to slice two acorn squashes with a dull, old knife and almost cut a finger off. But it really wasn't bad this time. I promise!
The second moment was upon discovering that I spent $15 on organic kale last week. This resulted in a half-day "how to grow kale" Google session, and now I might start a kale farm! TBD.
This farro salad is perfect for fall lunches and cozy dinners.
This salad really has it all. Ate too many slices of pie while standing at the stove? The greens add *balance* to your life. Feeling some cold-weather blues? Pomegranate and lemon make it all better! Too lazy to make a full-on meal? There's farro, hazelnuts, and feta for a protein boost. You could also serve the farro salad with a runny egg on top, and it would be a top-notch lunch situation. Otherwise, it's hella good with roasted chicken and a dollop of plain Greek yogurt.
Also, I would recommend doubling this recipe, because it goes quick. We had seconds for dinner which totally ruined my next-day lunch situation. Still, it was worth it. Luckily, it keeps v well in the fridge! I've eaten this salad days after making it, and it always holds up.
P.S. I know it's only October, but I think about Thanksgiving 95% of the time. This would be a perfect turkey side dish! And if you leave out the feta, it's even vegan!!
Farro Salad with Acorn Squash, Kale, + Pomegranate
---
Notes: The dressing is pretty tart. If you don't like tart, use 1/4 c. of lemon juice and try adding a bit of honey or maple syrup to taste.
If you don't like acorn squash, you can use 1 large (or 2 small) sweet potatoes instead!
Serve the acorn squash on top. If you toss it with the dressing, it may get squished in the process!
Lastly, this salad can be served warm or room-temperature. I personally prefer it room-temperature, but if you eat this with say, a runny egg, then I would mix it up quick and eat it while it's still hot!
Farro Salad with Acorn Squash, Kale, + Pomegranate
This farro and kale salad is so pretty for fall! It's tossed with roasted acorn squash for sweetness, pomegranate arils for a little brightness, and an herbed lemon vinaigrette. This salad is super cozy and makes for a fresh side dish alongside rich, savory meals.
Ingredients
Farro Salad
1 small acorn squash
2 tbsp olive oil
1 cup farro, rinsed
4 cup kale, chopped
1/4 cup pomegranate jewels
1/2 cup hazelnuts, chopped
1/4 cup feta, crumbled (optional)
1/4 cup scallions, chopped
Plain Greek yogurt, for serving (optional)
Za'atar Lemon Dressing
1 small shallot, finely diced
2 cloves of garlic, minced
1/3 cup olive oil
1/3 cup lemon juice
1 tsp za'atar
Salt and pepper, to taste
Instructions
Farro Salad
Preheat the oven to 375° F. Grease a baking sheet with olive oil and set aside.

To cut the acorn squash, start off with a very sharp knife, or it will be more difficult to cut! Chop off the top and bottom to make both sides flat. Stand the acorn squash vertically, and cut it in half. Scrape out the seeds with a spoon. Then, lay the squash horizontally, and cut into 1/2-inch slices.

Toss the squash with the olive oil and a big pinch of salt and pepper. Spread evenly on the baking sheet, and bake for 20 minutes. Flip the squash, and bake for another 10-15 minutes, until the squash is fork-tender and starting to caramelize. Set aside.

While the squash is baking, combine the farro with 3 cups of water and a pinch of salt in a large pot. Bring to a boil, and then reduce to a simmer for about 30 minutes, until the farro is tender but still has a bite. Drain off excess water, and set aside.

While the farro simmers, make the dressing. Heat the olive oil in a pan over medium heat. Add the shallot, and cook until soft. Then, add the garlic, and saute for about 30 seconds. Remove the infused oil from the heat, and let it cool slightly. Whisk in the lemon juice, za'atar, salt, and pepper until smooth. Set aside.

Combine the farro, kale, pomegranate jewels, hazelnuts, feta, and scallions. Toss with half of the dressing. Taste, and add more dressing as necessary. Season with salt and pepper, to taste. Place the acorn squash on top (I try not to toss the acorn squash in, because it has a tendency to fall apart). Serve warm or at room-temperature with a dollop of yogurt (if that's your thing)!
Notes
If you can't find acorn squash, you can use 1 large or 2 small sweet potatoes instead.
Serving: 1serving, Calories: 333kcal, Carbohydrates: 31.1g, Protein: 7.8g, Fat: 22g, Saturated Fat: 3.9g, Cholesterol: 8mg, Sodium: 295mg, Potassium: 832mg, Fiber: 4.7g, Sugar: 1.9g, Calcium: 201mg, Iron: 3mg
---
xo Sara Lynn
*Song of the day: Without You by Strawberry Guy