Roasted Citrus Compote
Roasted citrus compote with honey, vanilla, and cardamom. Served over plain Greek yogurt and sprinkled with pistachios for crunch!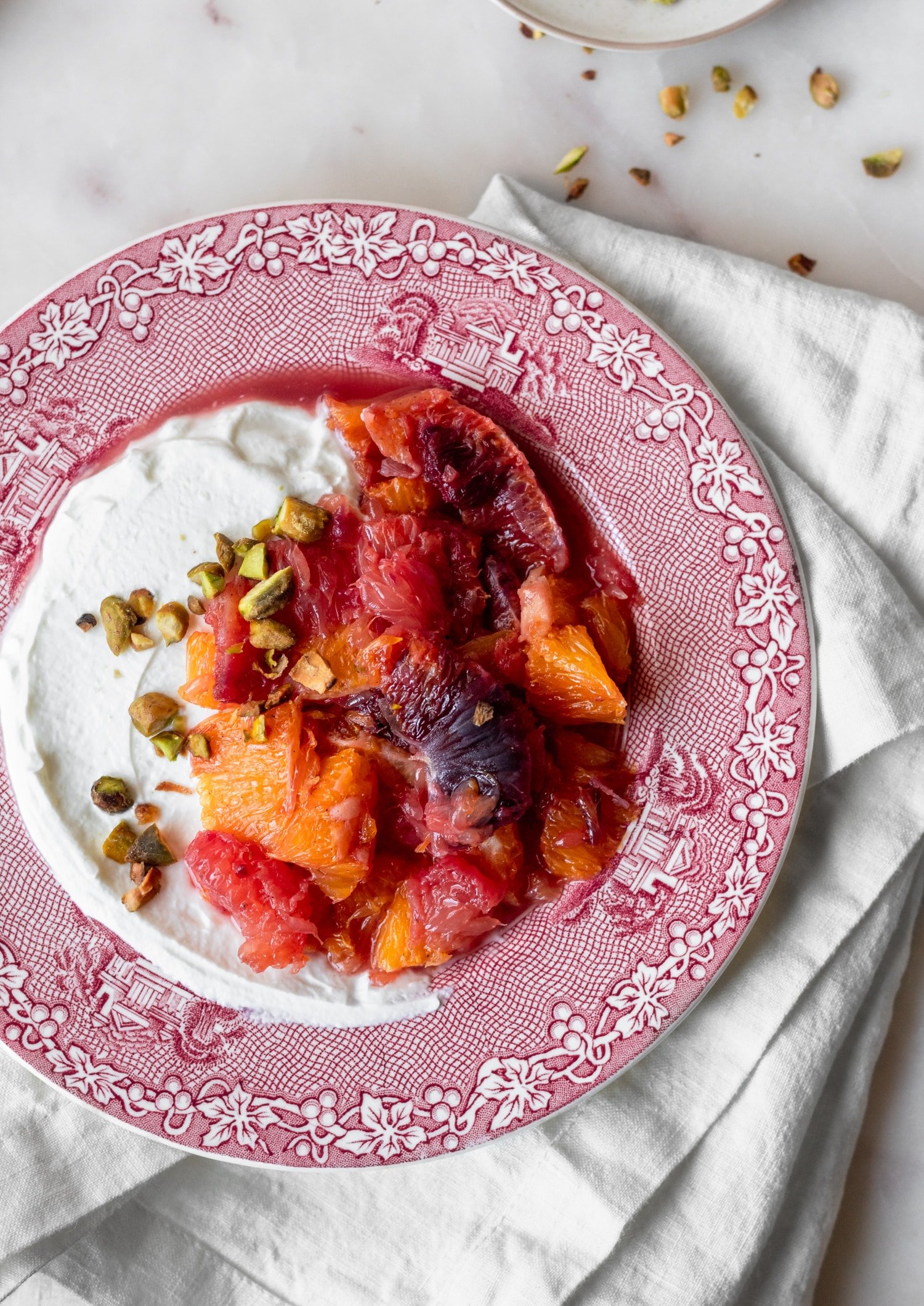 We ate soup for every meal last week and only just finished all of the leftovers for dinner last night. Marc and I both came down with colds last week, and the worst part is that it happened on the same day, so we couldn't blame it on each other. Instead, I decided we probably picked it up on the plane from our trip to Vegas. Unfortunately, I had just celebrated not getting sick for the entire winter, which is completely unheard of for me. So I was a little bummed. But I got to make pots and pots of soup and eat it literally all week! And on Wednesday when I had a fever and wanted to die, I still made Marc take me to Sup.
The thing is that when I'm sick, I 1. only want to eat soup forever. And 2. try to fit every possible "detox" spice I've ever read about online into my meals. Turmeric, garlic, and ginger are stuffed into rice and chicken. Green tea + lemon becomes my drink of choice. I eat like, ten servings of veggies a day. Honestly, I don't know how well these methods actually work, but it just makes me feel better trying. At the very least, I try to up my Vitamin C intake. And it just so happens that there is still a tiny bit of citrus season to squeeze out of this year. V convenient timing indeed, thanks viruses!
Lately I have been having the absolute hardest time coming up with wholesome breakfast ideas that I can take to work. I think if I eat oatmeal one more time, I might actually die. So I bought all of the citrus left in my grocery store and made roasted citrus compote! I have been eating it over plain yogurt with a bit of vanilla and pistachios. And omgggg, it's so good. I think I might be addicted to this stuff.
Roasted citrus compote is amazing, because it's easy and versatile af. I used blood oranges, Sumos, and juicy grapefruits because they were still available at my local grocery. But I will probably keep making this all year with regular oranges and whatever grapefruits are available. I think pomelos would be amazing too! Genuinely, all you need is a ton of citrus and a few ingredients around the house. You will need to supreme the citrus, which seems difficult but is actually soooo easy! Roast it for a few minutes, and breakfast is ready for the week! Yay for unintentional food prep?
While I personally love eating this roasted citrus compote over yogurt, you could do a ton of things with it! Serve it over ice cream or with whipped coconut cream. Toss it with some arugula with olive oil and balsamic vinegar. It would also be amazing with roasted pork! Ok, now I'm getting uber excited over roasted citrus compote possibilities, I think I need to go make more rn bye!!
More sauces & compotes
Easy Strawberry Compote & Coulis
Bourbon Hot Honey
Sage Apple Butter
---
Roasted Citrus Compote
Roasted citrus compote with honey, vanilla, and cardamom. Served over plain Greek yogurt and topped with pistachios for crunch!
Ingredients
3 cup citrus fruit segmented
2 tbsp honey or maple syrup
1 tsp vanilla extract
1/4 tsp cardamom ground
Plain Greek yogurt, pistachios, and honey for serving
Instructions
Preheat the broiler on your oven while you are segmenting your citrus. Brush a cookie sheet lightly with olive oil or cooking oil of choice.

Now it's time to supreme your citrus! For three cups, I used two large grapefruits, two oranges, and two blood oranges. Slice the ends off of each side of the citrus. Stand your fruit on one of the flat sides. Starting at the top, cut down the side of the citrus to the base, following the curve of the fruit. The goal is to remove the pith with as little of the flesh as possible. Once all the pith is removed, use a small knife to slice around the segments of the fruit. Remove the slices of citrus and discard the segments. Repeat with remaining fruit.

Place all of your citrus segments into a medium bowl. Add the remaining ingredients, and toss gently to coat. Spread evenly on the prepared cookie sheet.

Broil the fruit for 4-5 minutes, tossing once in the middle. Be gentle, or it will fall apart. Remove from the oven when the fruit juices are bubbly and the citrus is lightly charred.

Remove the citrus from the oven, and transfer to an airtight container. It can be served warm or cold. If you are not using it immediately, refrigerate until you're ready to use.
Notes
Any citrus will work for this recipe, but I like a variety of oranges, grapefruit, pomelos, and blood oranges if they're in season. You can try other spices like rosemary, cinnamon, or thyme as well. Reduce the honey or syrup by 1 Tbs. if you're serving this roasted citrus compote with savory meals.
Serving: 1scoop, Calories: 99kcal, Carbohydrates: 24.7g, Protein: 1.3g, Fat: 0.2g, Sodium: 1mg, Potassium: 253mg, Fiber: 3.3g, Sugar: 21.4g, Calcium: 55mg
---
xo Sara Lynn
*Song of the day: Para Que Sufrir by Natalia Lafourcade