The Best Easy Drinks for a Bachelorette Party
It's bachelorette party season and, obviously, cocktails are a must. There's no better way to celebrate your favorite bride-to-be than with these pretty, fun, and easy signature cocktails! From cute pink drinks to batch cocktails, these recipes are so much better than your basic vodka soda. Mix up these refreshing drinks for a bachelorette party and you're in for a good time, friends.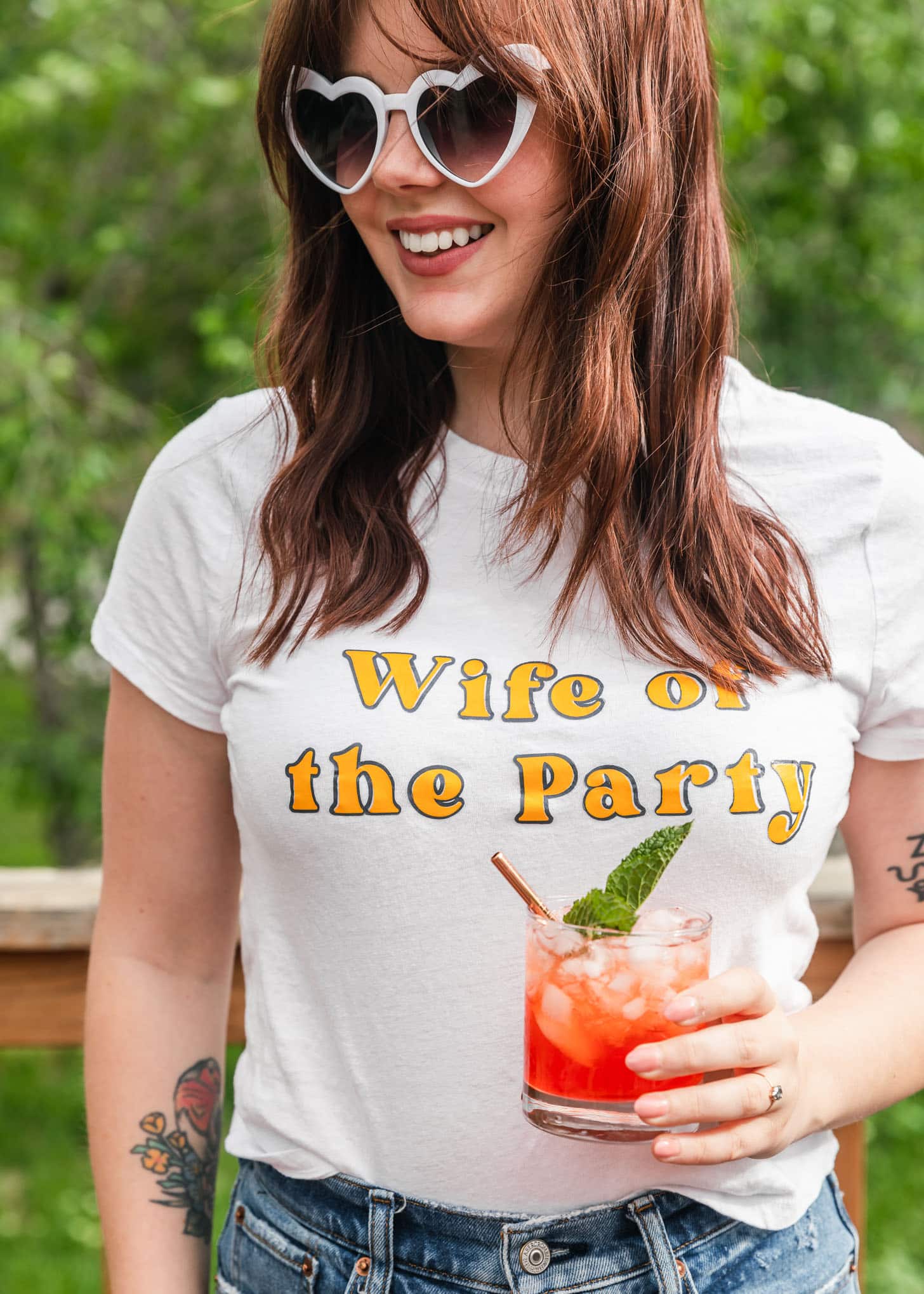 If you have a bachelorette party coming up, then I'm going to need you to do a couple of things. First, chug a bottle of water for me, k? And secondly, make sure you have a cocktail plan cause you're going to need it! After having my own bachelorette party, and of course, attending many, I'm basically a pro at bachelorette party cocktails. If you're not sure where to start, don't worry, I got you friends. Read on for my go-to bachelorette drink ideas and tips for cocktail planning!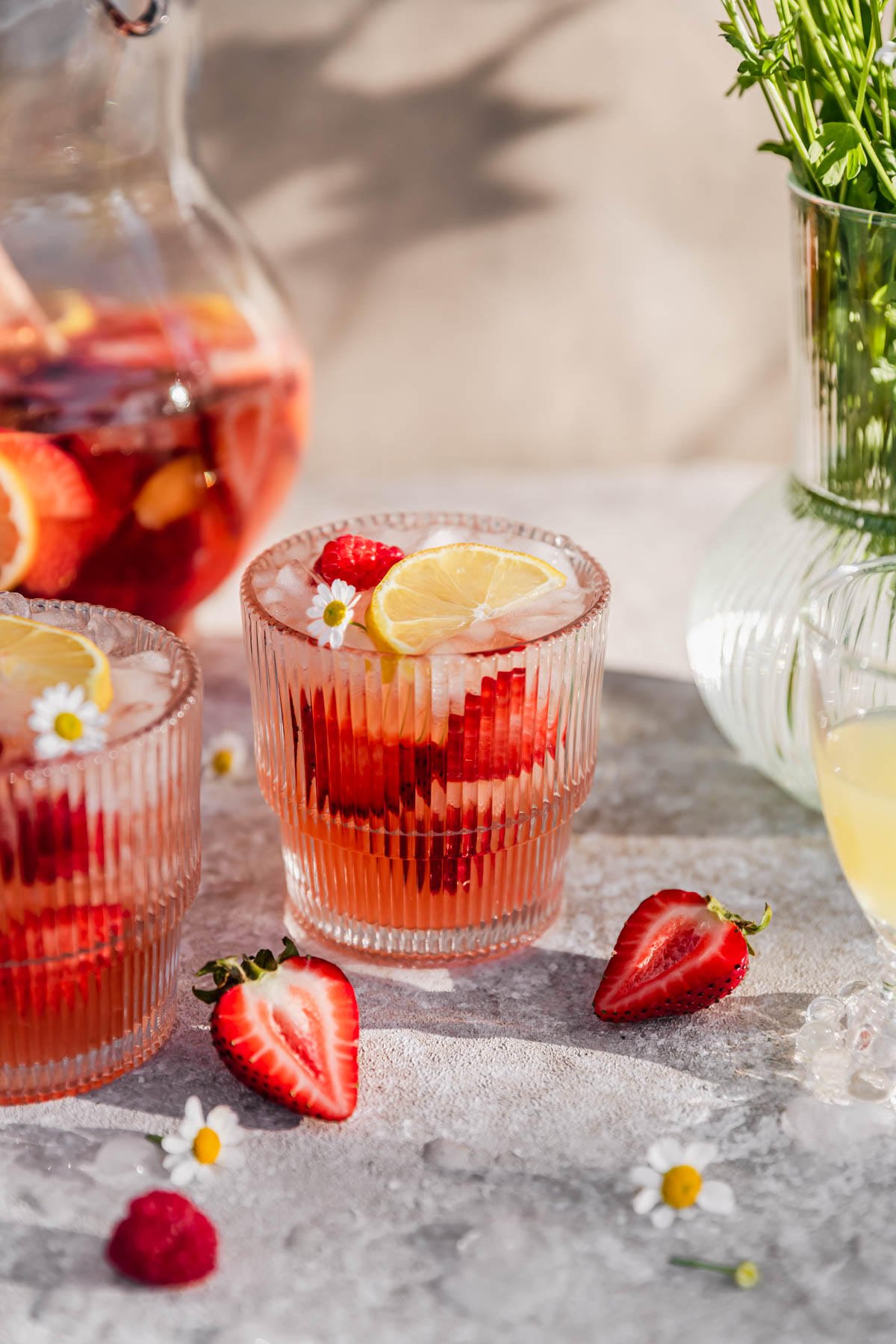 When it comes to hanging with your besties, you truly cannot go wrong with rosé. This sangria takes a basic bottle up a notch with strawberries, peaches, orange liqueur, and lemon. It's a fruity, sweet, and tart cocktail that any bride will love! Bonus: it's also very Instagram-able. Whip up this sangria the night before and you're set for lake days and pool hangs.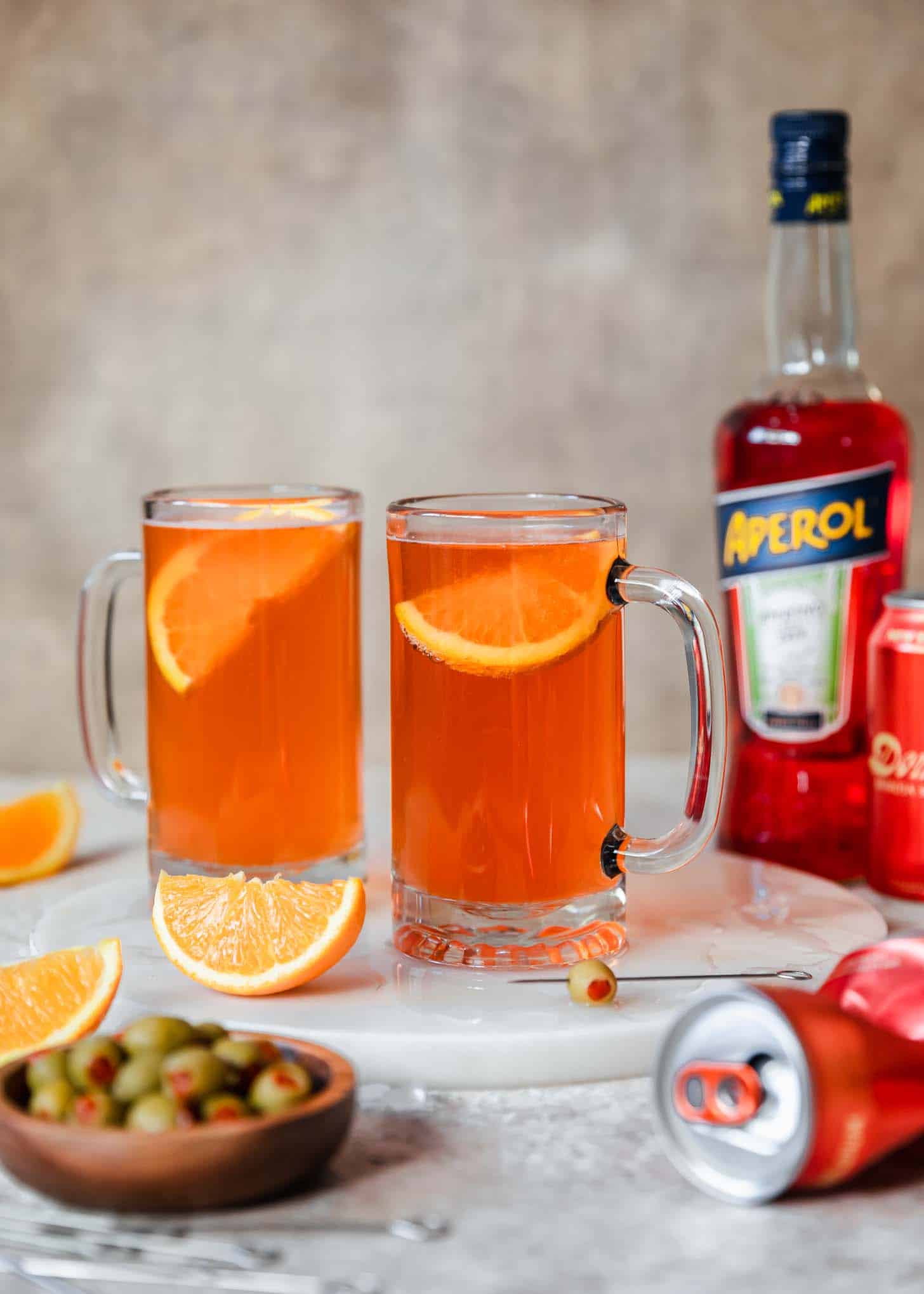 If you're looking for Aperol spritz vibes, you need to try these sour spaghett cocktails. With just two ingredients, this is the ultimate cocktail for the lazy girlies. (Seriously, these require basically no work and you don't even need to dirty a cup about it.) This cocktail is ridiculously refreshing and great for you sour beer lovers.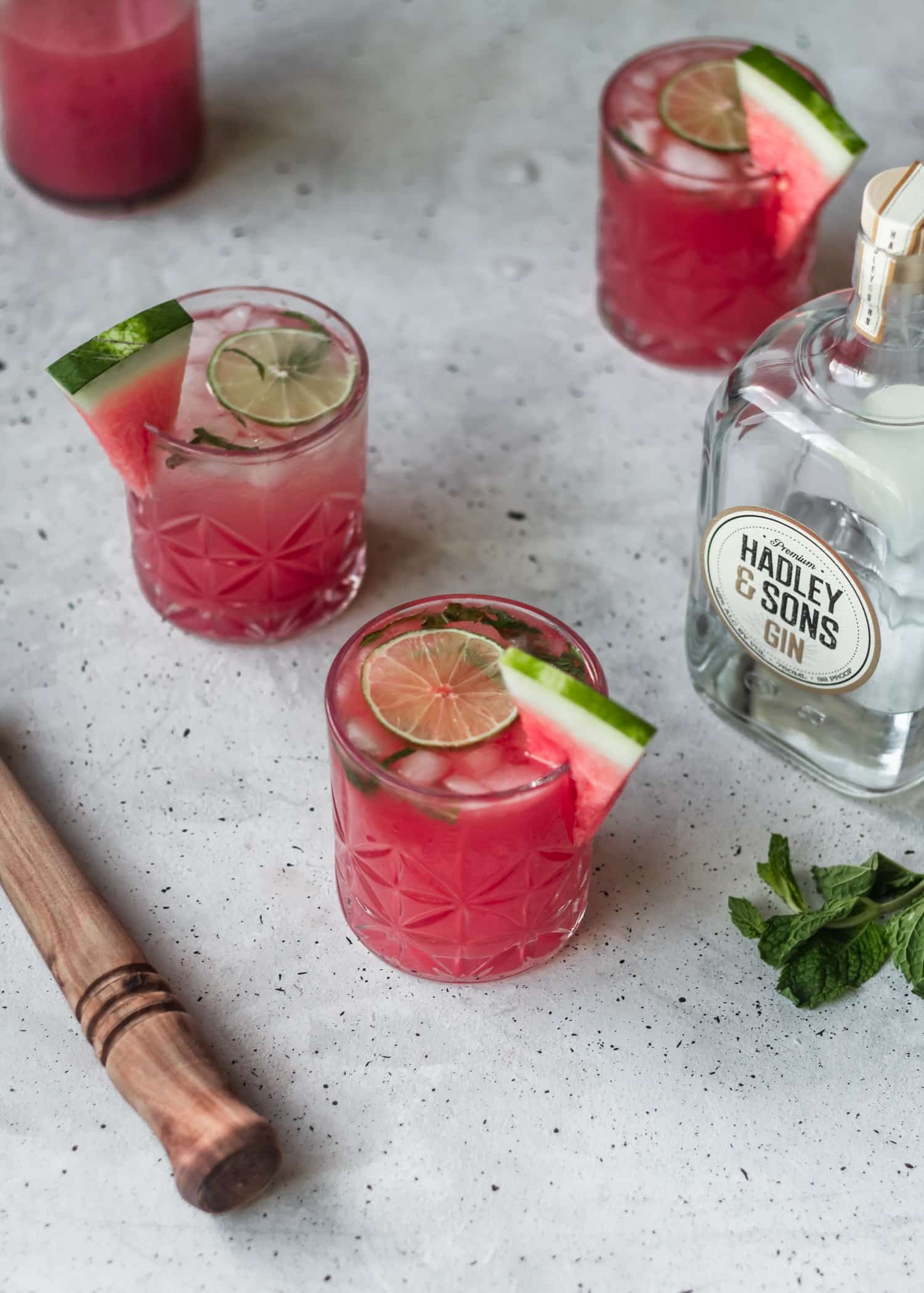 Juicy watermelon, floral gin, fresh mint? Honestly, what more could you need a hot summer day? This watermelon cocktail is beyond delicious and would look so cute in your 'last fling before the ring' wine glasses. If you're looking for a true show-stopper, trust me, you've found it. (P.S. not a fan of gin? Try vodka instead!)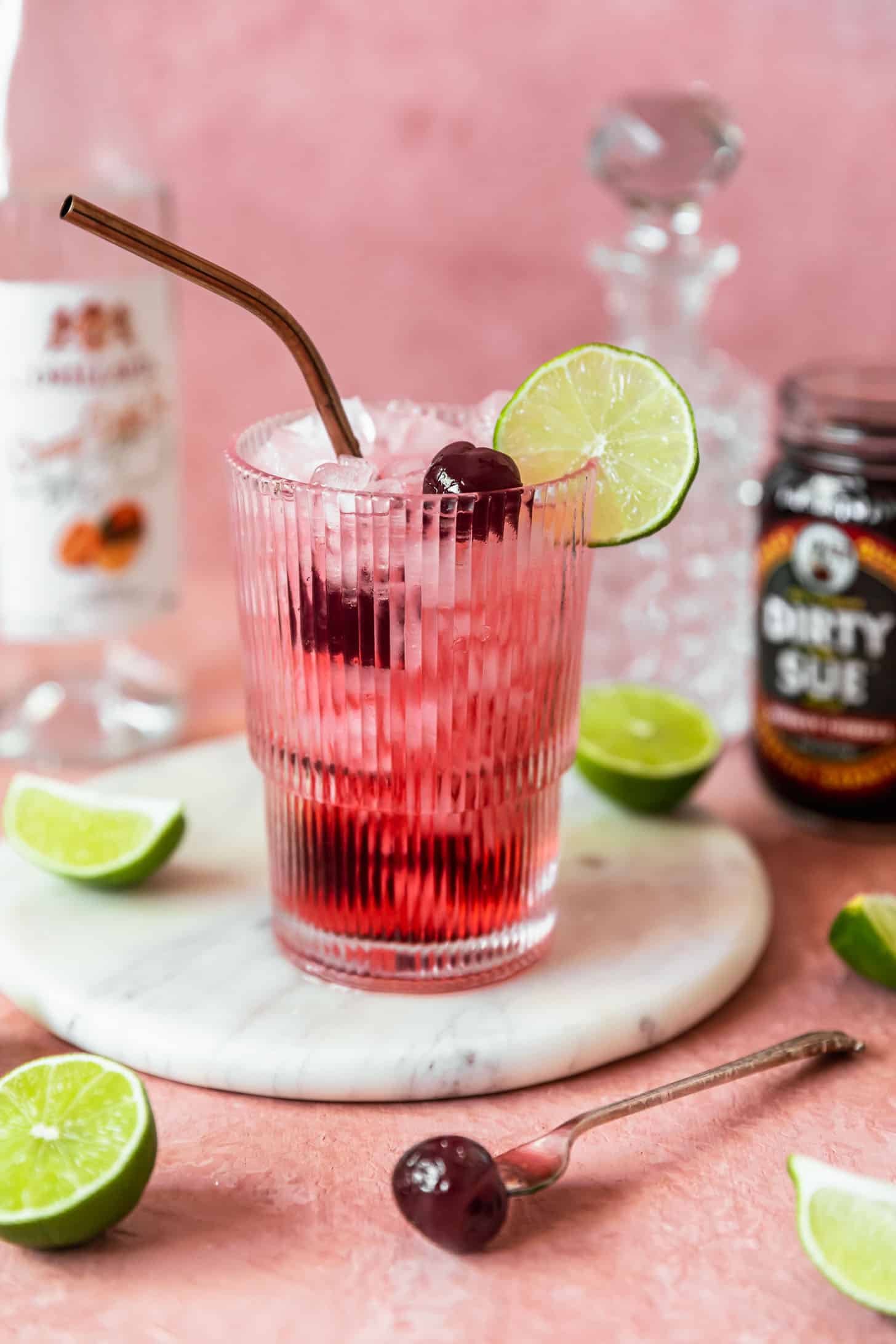 Nothing brings me back to my sorority girl days like a Dirty Shirley. She's cute, she's nostalgic, and she has the energy of 22 year old. (For when you want to go to sleep but also have FOMO. It me.) Even better, this version has orange liqueur, vodka, and lemon soda for a more grown-up version of the Shirley you know and love.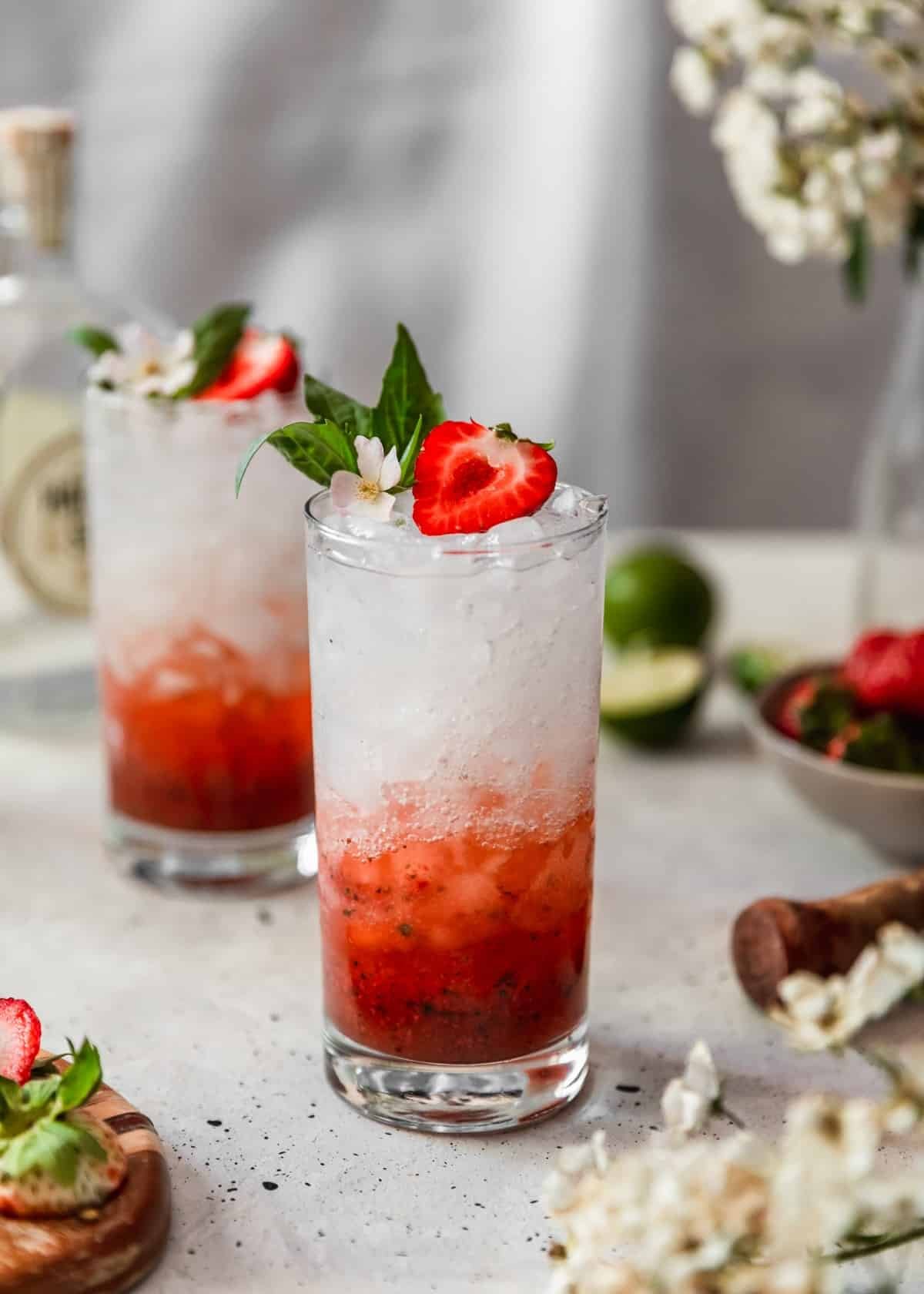 Strawberry and basil is a combo made in heaven. (Just like your bride-to-be and her SO, duh.) This bachelorette party drink is pretty, fizzy, fruity, and lightly floral thanks to a splash of elderflower liqueur. Inspired by a classic Vegas cocktail, this is perfect for those of you partying it up in Sin City! Want to switch things up? Try vodka or tequila instead of gin!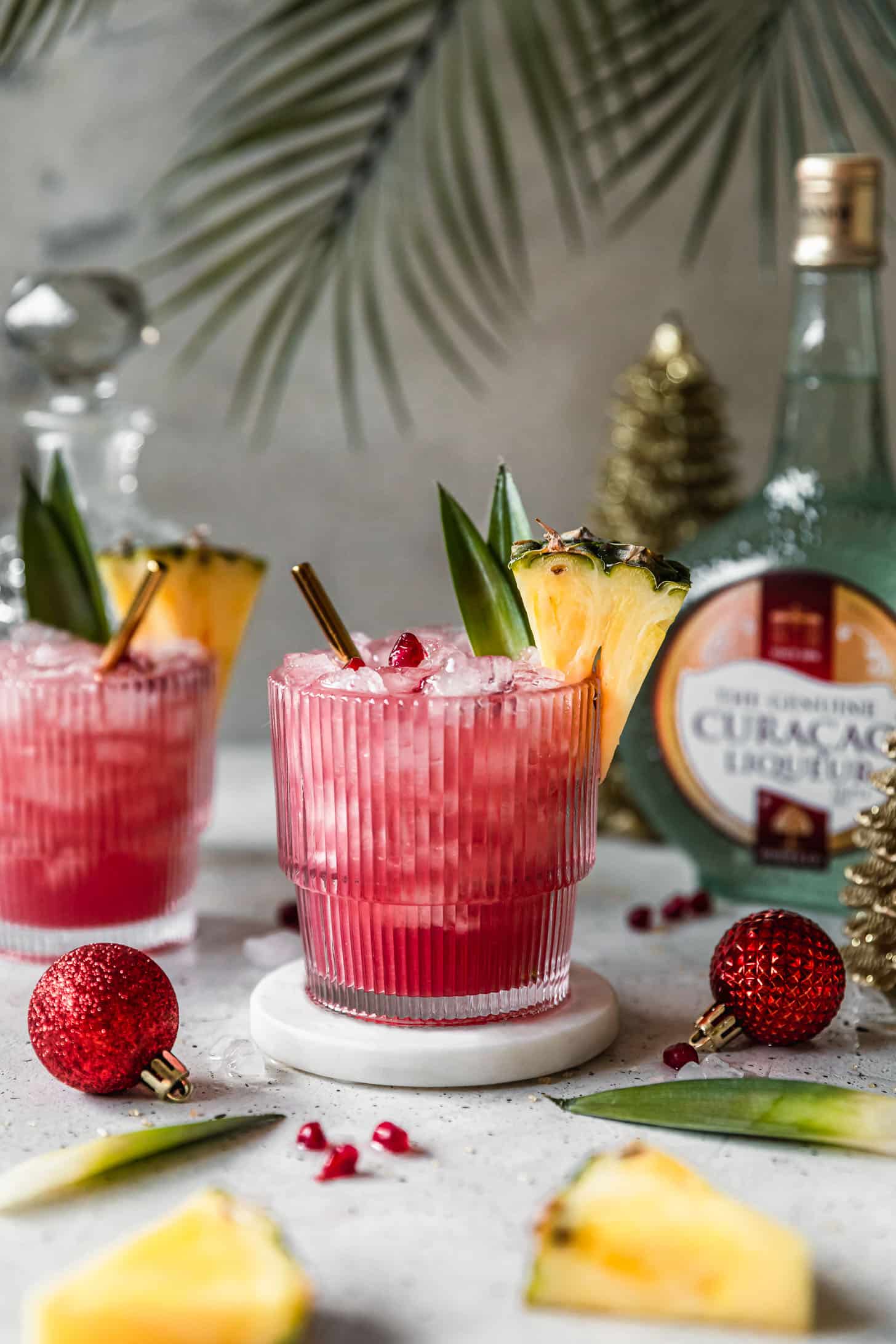 Ok, yes, technically this is a holiday cocktail. But, I promise that these mai tais will work for any time of the year! With pineapple, cranberry, lime, rum, and Curacao, this drink will transport you straight into the Caribbean no matter where you are. Totally on-brand for your tiki-cocktail-loving brides!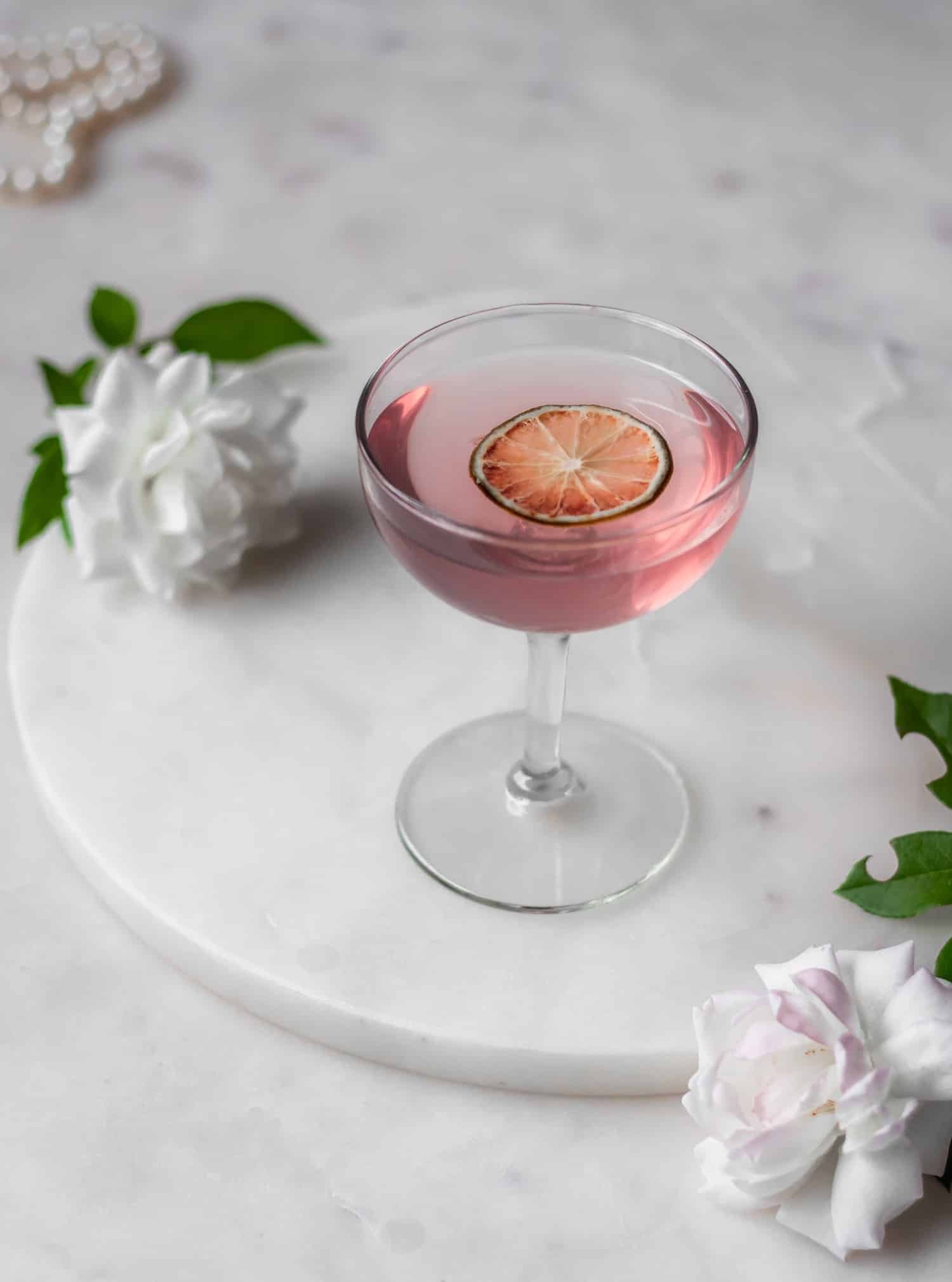 If you're heading to Palm Springs or Sedona for the weekend, you're definitely going to need desert-inspired bachelorette cocktails to go along with it. This vodka sour uses simple syrup from the famous Southwest fruit to get its signature pink color and tart watermelon-ish flavor. Try adding a splash of sparkling water or lemon-lime soda for a lower ABV cocktail!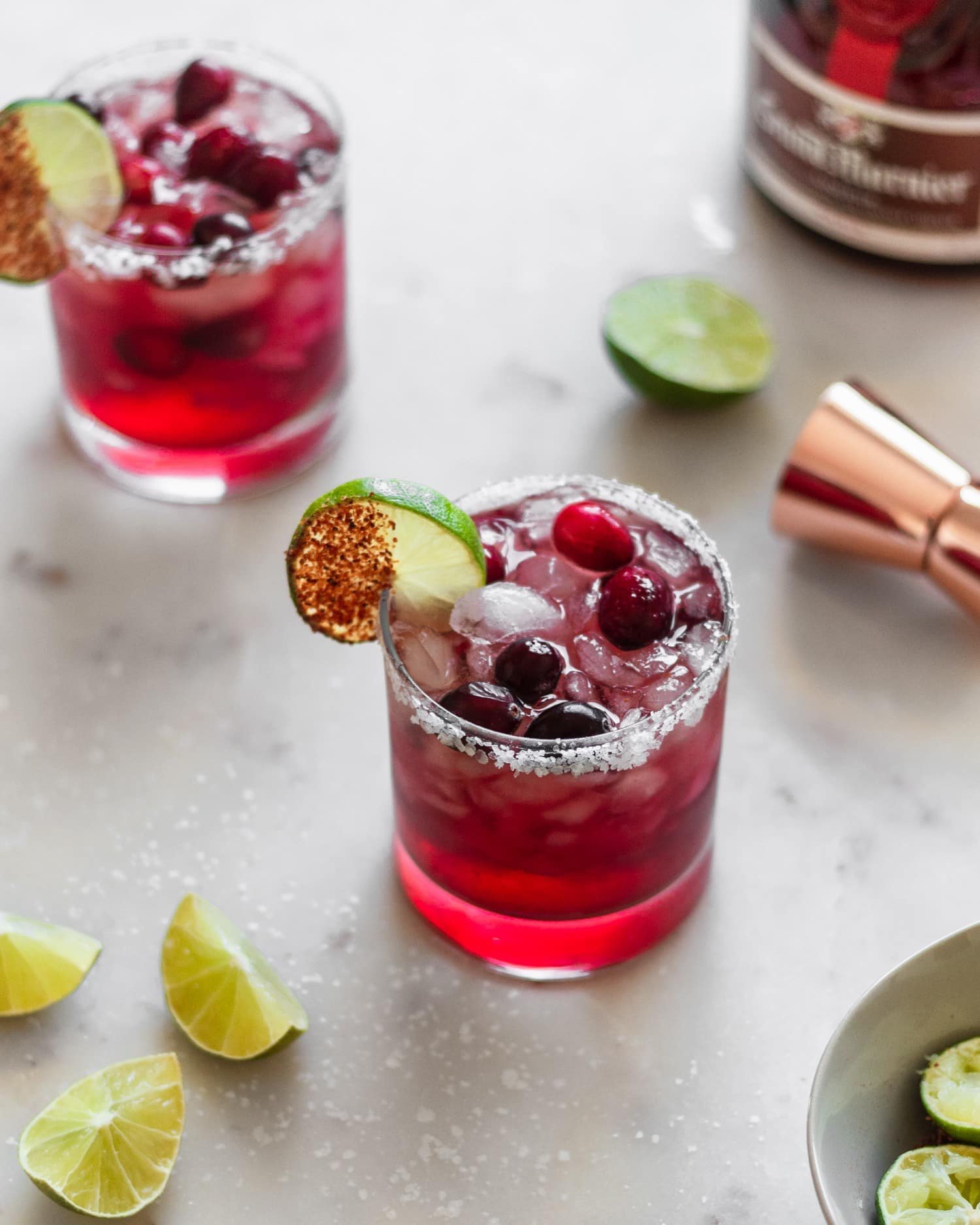 Skip the vodka crans and try these cranberry margaritas instead! With fresh lime juice, tequila, orange liqueur, and a float of Grand Marnier, these margaritas are the perfect batch cocktail situation. You're tequila-loving friends are going to be obsessed. (P.S. try these margaritas with pomegranate juice too. SO good!)
Why drink stevia-laced, malt-liquor based canned cocktails when you can have the real deal? These five homemade canned cocktails take less than 5 minutes to mix up in a can of your favorite sparkling water! Just set out all of the ingredients and let everyone go to town mixing up their own fancy beach drinks.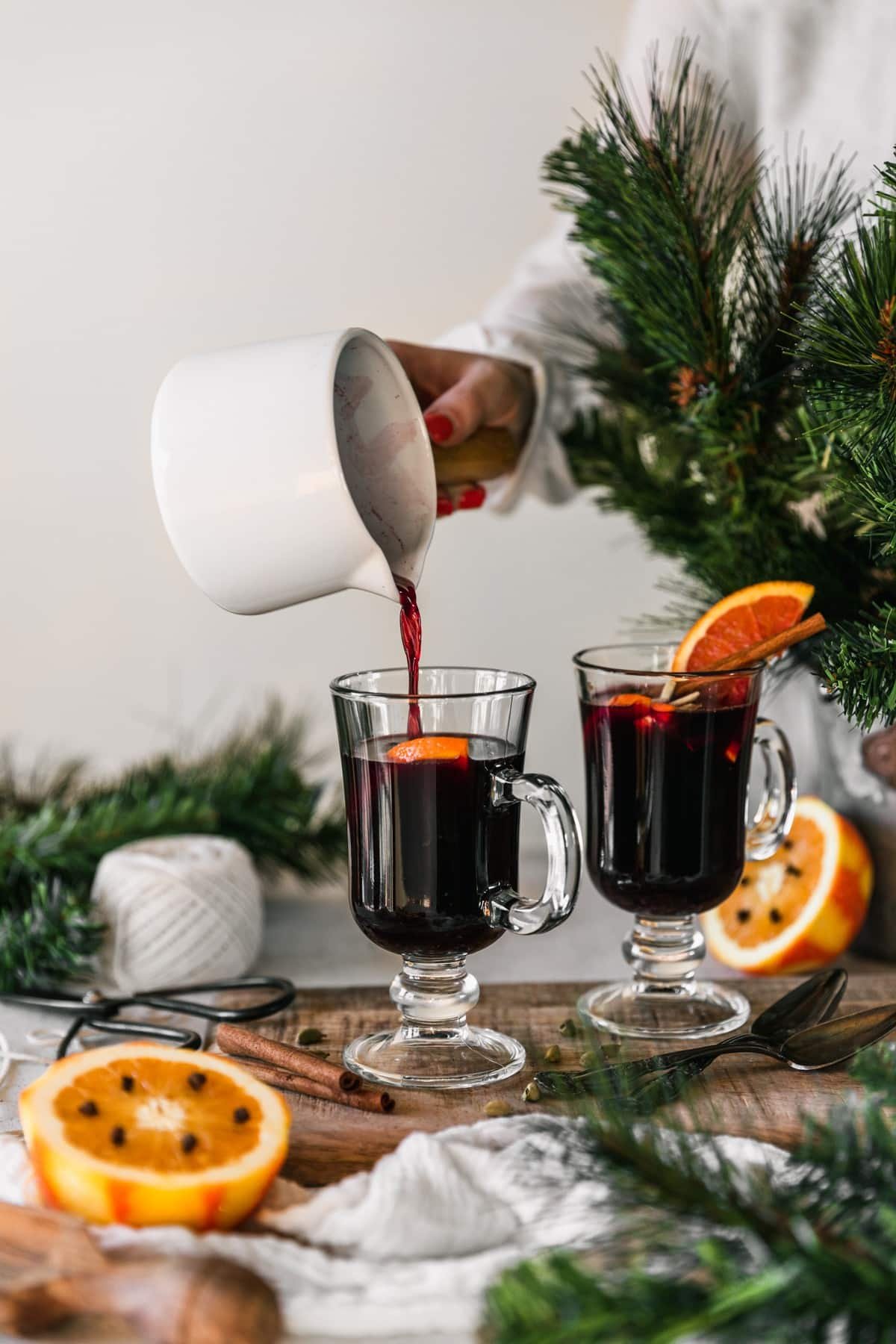 A cozy cabin bachelorette party is honestly my favorite kind. Since they're super popular where I live (thanks, Tahoe), it's only fitting to make a warm and fuzzy cocktail! Make a batch of this Norwegian mulled wine (you can even make it in a slow cooker while you're out and about) and enjoy after a long day of snow shoeing or while cozying up around the outdoor fire pit.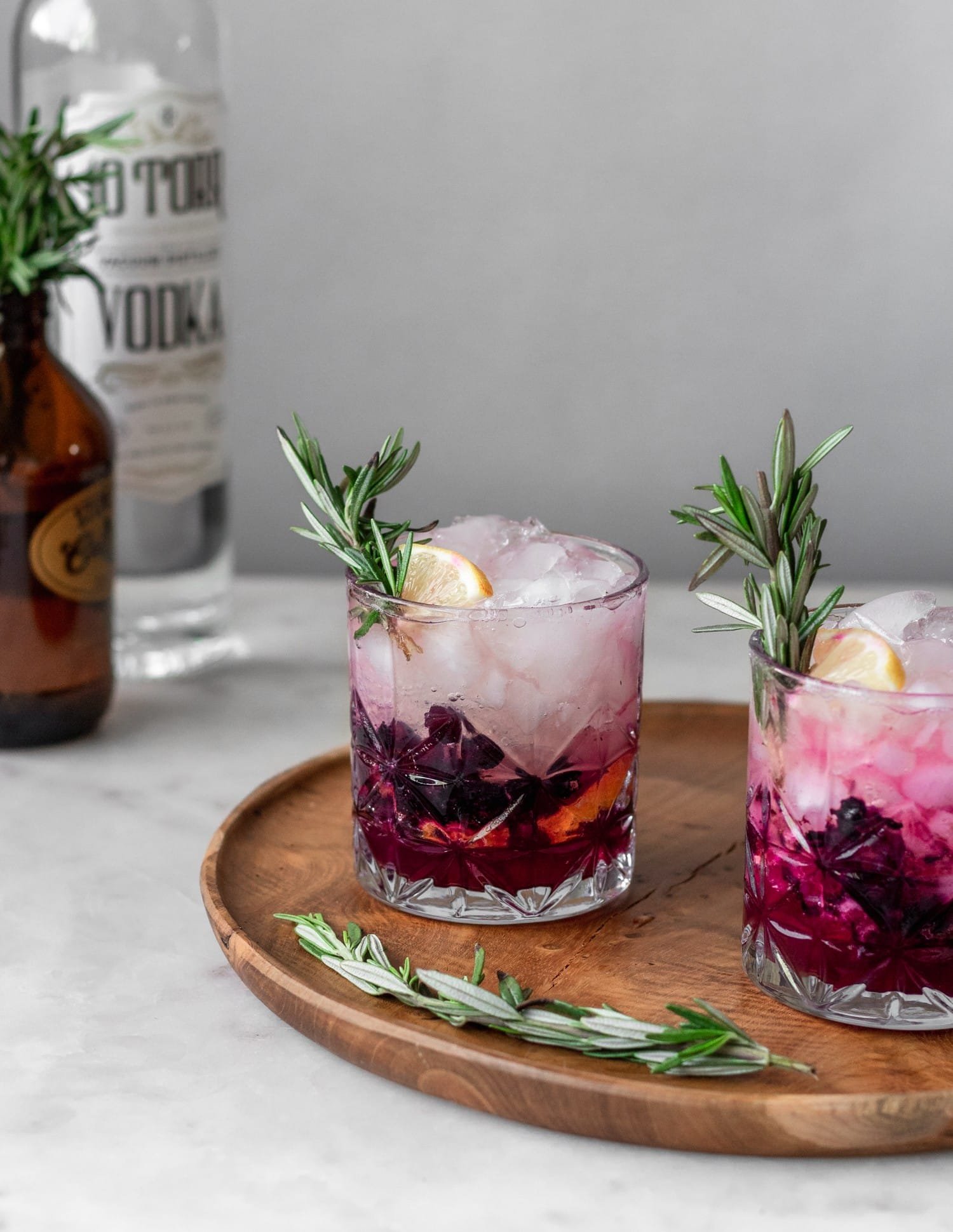 This spritz is one of the most popular recipes on my site and for good reason. Not only is it super refreshing and made in a pitcher, but you can also customize it with any berry or liquor! Try strawberries and tequila, raspberries and rum, or any combo you're into for the ultimate bachelorette party signature drink.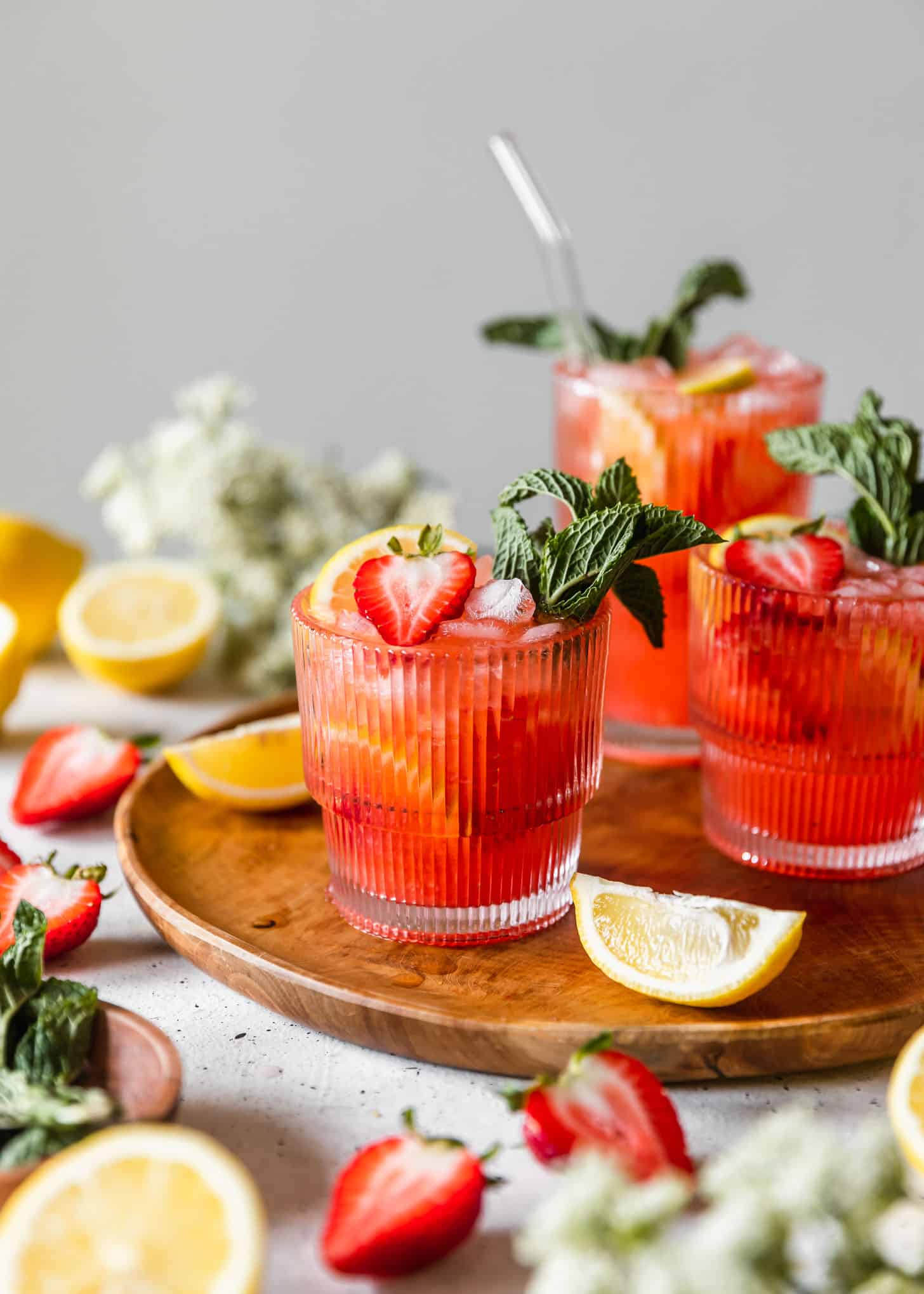 Is there anything better than a tall glass of strawberry lemonade? Add a splash of bourbon or vodka and you're in for a party. Mixed up in a pitcher, this cocktail is perfectly tart and boozy with a nice hint of fresh strawberry. This is the perfect drink to sip on the beach or on a boat! Even better? Serve the booze on the side for a non-alcoholic option!
Quick tip
Many of these cocktails can be made without alcohol or lower-ABV! To make non-alcoholic drinks, replace the alcohol with your favorite liquor alternative or use extra juice or soda. In some of the drinks, you can leave the alcohol out entirely! For low ABV drinks, use less alcohol (3/4-1 ounce of liquor) and add extra juice, club soda, or mixers, to taste.
What should you drink at a bachelorette party?
After making many bachelorette cocktails, I've learned a basic formula for success. Fruity + boozy + preferably pink = the perfect drink situation. I also love a good pitcher cocktail for easy pouring and sipping. (Cause let's be honest, no one wants to be the personal bartender all weekend). Luckily, most of these cocktails can be batched and made in advance for easy partying!
How much alcohol will we need?
The amount of alcohol will 100% depend on how many people are coming to the party and how much you plan on drinking at home (vs. going to bars or not drinking at all). But, I like to plan on one drink per person for every hour you plan on drinking. Then, add 25% just to be safe!
Once you know how many people you have and how much you plan on drinking at home, you can use the this formula to decide how much booze to buy. Something to keep in mind – one serving of alcohol is 1 1/2 ounces of liquor, about 5-6 ounces of wine, or 12 ounces of beer/seltzer. And don't forget the mixers!
What alcohol should I bring to a bachelorette?
Before you buy alcohol, first ask the maid of honor (or whoever is planning the party) if they are purchasing alcohol. Most of the time that I've gone to bachelorettes, they buy the alcohol and I just pay for my portion later.
But, if you want to contribute or bring something special, vodka, tequila, or rosé is always a safe bet. If you know that the bride is a fan of something special, like gin, bourbon, or rum, bring a good bottle to 'cheers' to the bride-to-be!
Will these cocktails also work for a bridal shower?
Totally! These drinks are all great options if you're throwing a bridal shower. You could even make a few different versions and have a whole cocktail bar!
Can I make these drinks as batch cocktails?
Most of these recipes are batch cocktails or can be made in larger quantities. I usually double or triple them so that I have enough servings to last for a night or two.
Can I make these drinks in advance?
Yep! A lot of these bachelorette party drinks can be made in advance. But, don't forget to read the recipes first to make sure that they will work well. Some of them have fizzy ingredients (like club soda) which need to be added last minute.