How to Throw a Cozy Christmas Movie Night Party
Christmas party season is upon us! Keep things casual and cozy this year with a Christmas movie night. These are all of my favorite tips on throwing the ultimate party from snacks and decor to drinks and movie ideas. Whether you're hosting Friendsmas or just enjoying a quiet night in, this is a lovely way to hang with friends and family this season!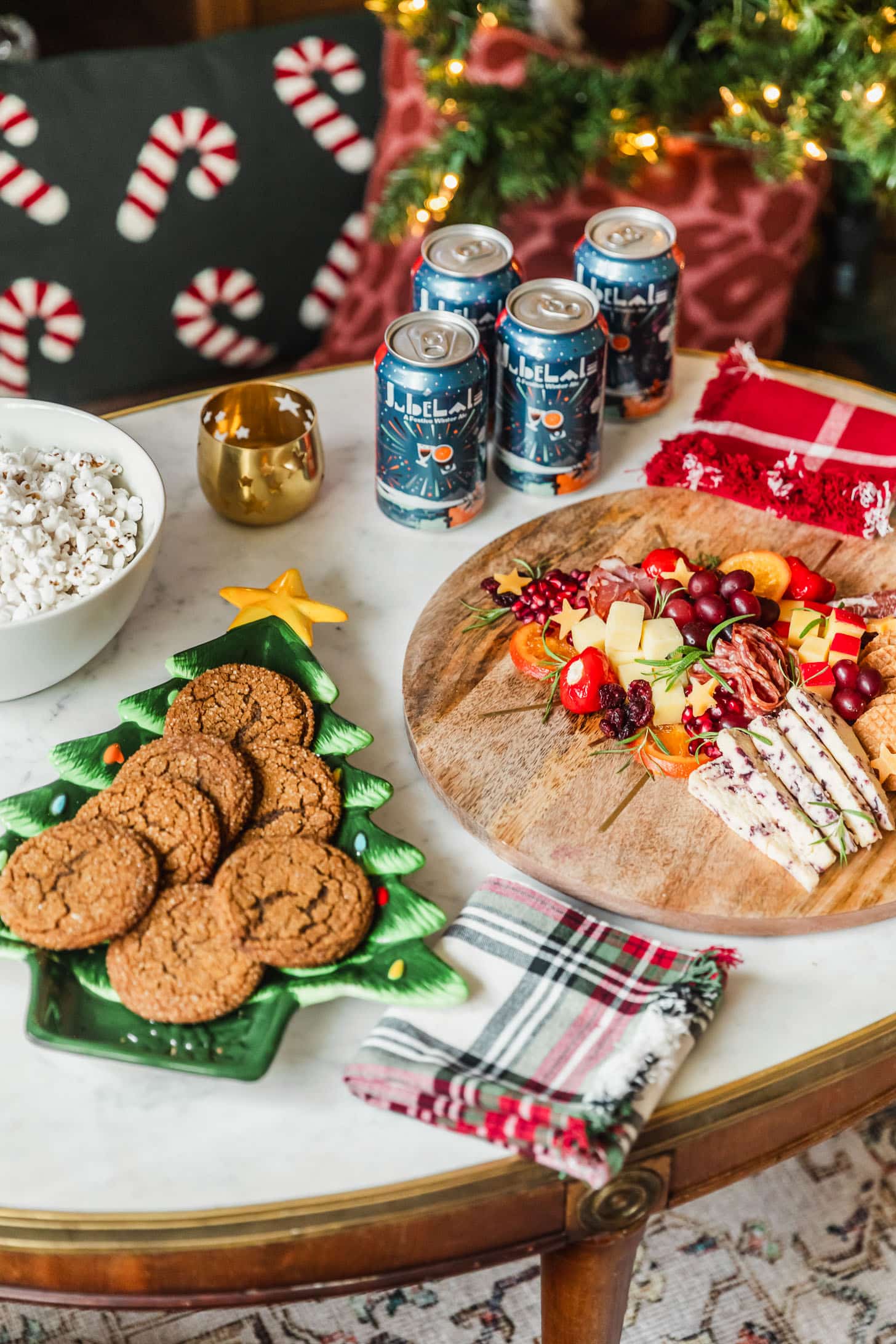 I live for a get-together with friends. Casual brunch parties, intimate dinner parties, bachelorette bashes with the girlies. I'm there. But Christmas get-togethers might just be my favorite of all time.
And honestly, it's just not Christmas around here until I gather everyone at my house, turn on some holiday movies, and pawn all of my cookie recipe tests on my friends. That's right kids, we're throwing a party!
PJs? Optional. Pizza? Perhaps. Beer? A necessity. Start scrolling through the Netflix holiday movies and let's get into it!
A case for throwing a movie party
Every year, I will undoubtedly end up at one black-tie event, a cookie exchange, and an ugly sweater party. But in my 10+ years of throwing holiday parties, a stress-free movie night is always the favorite!
Movie nights are cozy, casual, & un-fussy. (Pajamas are highly encouraged.)
It gives you a chance to catch up with friends during the busy holiday season.
It's the perfect excuse to make your favorite holiday snacks & cocktails.
You can make it adults-only or kid-friendly depending on your group!
Theme ideas
The first step is to pick a theme! Just as a side note, you totally don't have to have a theme. I usually don't. But, if you love a certain movie, it can be a fun way to help you pick decorations, snacks, and drinks.
The Grinch – make Grinch cookies or cocktails and decorate with red, white, and lime green to match the vibe of the movie.
Elf – spaghetti night anyone? A candy bar would also be so fun for an Elf themed party! Bonus – you can use your regular Christmas decorations.
The Nightmare Before Christmas – is it a Christmas movie? A Halloween movie? Who knows. But it's a great excuse to bust out your Halloween and Christmas decor!
A Christmas Story – sexy leg lamps. Pink bunnies. Chinese food. Enough said, I'm in.
General Christmas vibes – set out your favorite Christmas decorations and make some festive food. Christmas is a theme in and of itself!
The invites
You can always send paper invites if you want a super extra movie night. But to keep things casual, I usually just shoot my friends a quick group text. If you want to text a cute graphic, I like Paperless Post! Here's a few tips for inviting everyone over:
Make a guest list so you know how much food to make. (And how many extra chairs to hunt down.)
Send the invites 2-4 weeks before the party to give everyone time to plan.
Aim for a party that's around mid-December so it's not too close to Christmas.
Setting the party up
Set-up will totally depend on how elaborate you're getting with decorations, but you'll definitely want to get the seating figured out. I always recommend setting up the night before so that you're not stressed the next day!
First, gather extra chairs, beanbags, floor pillows, ottomans, or any other sit-able objects you have in front of the TV. You'll want plenty of seating! Throw some blankets and pillows on the couch to make everything nice and cozy.
Then, make sure you have a coffee table or some sort of small table for your friends to put their drinks and plates on!
Set up any decorations, bar carts, or snack tables. You can add the serving trays, drink dispensers, and cutlery so that all you have to do is add food the next day!
If you have speakers, now would be a great time to set them up so everyone can hear the movie.
On the day of the party, just set up the food and drinks and you're ready to go!
Quick tip
For extra seating, I like to set out floor pillows so everyone can spread out. Patio cushions or even a blow up mattress works great too! Just cover everything with blankets and pillows so everyone can cuddle up, and you'll have plenty of seating for everyone!
The drinks
It's not a party without some drinks! I always have a mix of alcoholic and non-alcoholic options for variety.
Alcoholic drinks
A few bottles of wine
A cooler of beer or hard seltzer
Non-alcoholic drinks
Soda or sparkling water
Coffee or tea
Party punch or NA cocktails
Sparkling cider
Pro tip
Set up a hot chocolate bar! Just keep the hot chocolate warm in a slow cooker or thermos and set it up on a table with a few decorations. Add bowls of marshmallows, homemade whipped cream, candy canes, chocolate, cookies, and spices so your friends can make their own hot chocolate creations!
Snack & dinner menu ideas
Obviously you'll need some food! You can keep things snacky with appetizers, serve a whole meal, or make it a potluck. Feel free to use a mix of store-bought, homemade, and delivery to keep things extra easy. Here are some of my favorite holiday party recipes!
Snacks & apps
Main meals
Desserts & sweets
How to decorate for a Christmas movie party
When it comes to decorations, I like to keep things pretty simple – it is about the movie, after all. Luckily, if you decorate for Christmas, you're already halfway there. But, if you want to add a little extra pizzazz, here are a few easy ideas:
Add a few Christmas pillows & throw blankets
Use Christmas-themed serving trays
Drape garland or lights around the TV
Use decorative napkins & plates
Add knick-knacks or ornaments to fill in small gaps
Turn a bar cart into a hot chocolate station – so cute!
Party supplies
These are just a few supplies you'll want on hand! If you don't have these items, you can use this as a quick checklist:
Wine glasses & drinking glasses
Bottle openers (if necessary)
Plates & snack bowls
Silverware & napkins
Serving trays & drink dispensers
Ice & a large cooler
Trash bags & a recycling bin
Games & activities
You don't have to have games, but it's nice to have stuff to do in-between watching movies. Here are a few quick ideas that everyone loves!
Spoons or other card games
Cards Against Humanity
Beer pong, Rage Cage, or flip cup
Mario Party or other video games
Cookie decorating!
What movies should we watch?
There are hundreds of Christmas movies out there, but here are a few fan favorites to choose from. You can either pre-select the movies you're watching, or you can let all of your friends vote on a movie!
Christmas classics
A Charlie Brown Christmas
How the Grinch Stole Christmas!
Love Actually
It's a Wonderful Life
Miracle on 34th Street
Christmas comedies
Elf
National Lampoon's Christmas Vacation
A Christmas Story
Home Alone
Kid-friendly movies
Rudolph the Red-Nosed Reindeer
The Nightmare Before Christmas
Frosty the Snowman
The Polar Express
Quick tip
I would definitely pick a movie you've already seen a million times! That way if you start chatting or get distracted, you're not missing out on anything good. I like sticking to classics like Charlie Brown and Grinch (the original cartoon). My faves!
Tips & tricks
If you can't decide on a movie, let your friends vote. Then everyone gets to watch what they like!
Make as much food and cocktails in advance as possible. I promise, it'll make the day of the party so much less stressful.
Plan for food restrictions. I always ask my friends if they have food restrictions so I can make sure I have something ready that they can eat!
Feel free to use a mix of store-bought and homemade food. Delivery pizza, homemade cookies, bags of chips, a pitcher cocktail, etc.
If you live somewhere warm, take the party outside! All you need is a projector and a white sheet for an outdoor movie night.
Party FAQs
How many people should I invite?
To be honest, that totally depends on how many people you can fit in your living room lol. But overall, I think a group of 12-16 is a good number. It's makes for a good party without getting overwhelming.
Can I make this kid-friendly?
Totally! This is one of my favorite parties to host for my friends with kids since it's so laid back. Just make sure you have some kid-friendly movies and snacks on deck. You can also throw in some activities like cookie decorating, board games, or coloring.
How can I make this budget-friendly?
Honestly, this Christmas movie party is fairly budget-friendly as long as you already have some movies or a streaming service. But, you can also make it more affordable by sticking to just appetizers, desserts, or popcorn and candy (instead of a whole meal). I also recommend making as much homemade snacks as possible – it's so much cheaper than store-bought!
When is the best time to throw a movie party?
I like to throw movie parties after dark for cozy vibes. Usually, I start the party at 7 or 8 p.m. but if you're inviting kids, you might want to start a little earlier. Or, you can host this party on Christmas morning (or even Christmas Eve) around 10 or 11 a.m. for a chill holiday get-together!
xo Sara Lynn
Song of the day – It's Beginning to Look a Lot Like Christmas by Bing Crosby